I am obsessed with Instagram. I think it's the most wonderful thing. Ever.
It's not, I know, but I am finding myself spending significant amounts of time on it. So when I heard there was an app that incorporated Instagram, I got all excited.
Talk about easily excited!
It's called InstaMatch, and it's a card matching game that uses Instagram photos. You can use your own photos, or you can use other people's. You can either pull photos from hashtags or from InstaMatch's predetermined categories (Nature, Food, Animals, Cities, and World Wonders).
I haven't had much time with the app, and I'm not sure if I can use only the people I follow's pics. If so, that's great. If not, I'd love that feature.
There's simple two-of-a-kind matching, which everyone knows and loves. Then there's "InstaMatch", in which you try to match things that are similar, such as ice cream cones or cats. They're not the same photo, which is something that made it challenging—and confusing. (I found "Cities" easiest.)
G/O Media may get a commission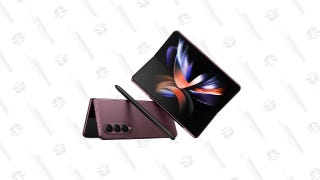 Save Up to $300
Galaxy Z Fold4
Still, it seems to be an interesting, quick diversion. The presentation and interface are nice, but I do wish I didn't have to go back to the Main Menu if I want to play a second game with new pictures.
InstaMatch - The Instagram Game [iTunes]