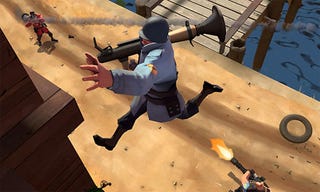 Yesterday, Team Fortress 2's Soldier class took over the game's official blog to inform players of new avatars and instruct them on the ways of military masculinity. Some speculative TF2 fans believe there's something more substantive to that update.
One theory currently running through the game's Steam forums—a dark and dangerous place—is that the Soldier will be the next unit to receive a class revamp, meaning new weapons, new unlockable items and a week's worth of blog updates. Oh, and maybe even a new gameplay mode, "King of the Hill."
Why are Team Fortress 2 fans clinging to that theory? The Soldier mentions "hill defense" twice in his rant, leading many to believe the Valve will add such a mode to the regularly updated game.
Can't say it's a bad idea, but not one that's built on much evidence right now. It has been nearly two months since Team Fortress 2 was blessed with the Spy and Sniper updates, so the timing might be right to begin teasing the next class update. We've still got the Engineer, Demoman and Soldier to get through before everyone's been retooled.
Of course, TF2 blog readers will also point out that the Soldier also mentions painting twice in his post. And Valve could very well be teasing unlockable barbecued ribs for a future update. We've contacted the Soldier to find out more.
More dot-commy mumbo jumbo for you bunch of women [TF2 blog]