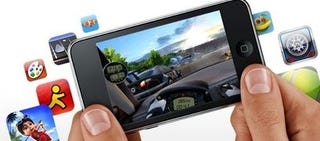 I guess dropping a few new songs in the Rock Band store and releasing a free version really boosts sales.
Rock Band continues its position as king of the hill for iPhone games, this week. What do you think should topple it?
Here's the full list:
Which do you think should be the top game?
Check out all of our iPhone game reviews.
| Position | Title | Price | Weeks | Last Week |
| --- | --- | --- | --- | --- |
| 1 | Rock Band (EA) | $6.99 | 3 | 1 |
| 2 | Call of Duty: World at War Zombies (Activision) | $9.99 | 6 | 3 |
| 3 | Bejeweled 2 (PopCap Games) | $2.99 | 23 | 4 |
| 4 | Assassin's Creed II Discovery (Ubisoft) | $6.99 | 1 | - |
| 5 | Doodle Jump (Lima Sky) | $.99 | 4 | 5 |
| 6 | Grand Theft Auto: Chinatown Wars (Rockstar Games) | $9.99 | 3 | 2 |
| 7 | The Sims 3 (EA) | $6.99 | 22 | 8 |
| 8 | All-In-1 Gamebox (Triniti Interactive Limited) | $.99 | 1 | - |
| 9 | Madden NFL 10 (EA) | $6.99 | 4 | 8 |
| 10 | Tetris (EA) | $4.99 | 21 | 9 |