Regular TechSpot readers will have no doubt spotted several mentions of Haswell on our front page this year. In the past few months we have covered everything from model names to performance and battery life claims. A key focus has been Haswell's graphics, with rumors suggesting its performance is set to be 2 to 3 times that of current HD 4000 integrated graphics.
So what is Haswell exactly? It is Intel's 4th generation Core architecture which will see a major refresh of the entire Core i3, Core i5 and Core i7 product lineup in 2013. Whereas last year's Ivy Bridge was a "tick" release, Haswell is a tock and traditionally that's meant a more significant advance forward.
Efficiency and graphics have remained key areas of focus for Intel in the last couple of generations and Haswell is no different. Intel did claim that Ivy Bridge was a "tick+" due to the more significant overhaul to the graphics side of things. Even so, despite providing up to twice as much graphics performance as Sandy Bridge under certain scenarios, it was still very underwhelming 3D rendering power when compared to discrete solutions.
G/O Media may get a commission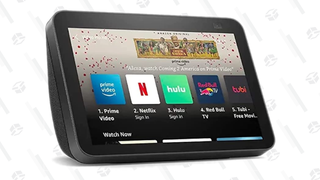 And the time has finally come. Haswell is ready to be unveiled, along with Intel's latest on-die GPU solutions. Today we'll only be checking out the new HD 4600 Graphics which comes as part of the high-end Core i7-4770K desktop processor. Faster HD 5000 Graphics and Iris Graphics 5100 and 5200 solutions will also become available starting today. As expected, the most powerful integrated graphics solutions are being reserved for processors designed for mobile devices, such as Ultrabooks.
4th Gen Intel Core CPU Family
The Haswell lineup is comprised of several desktop and mobile Core i7 and Core i5 processors that will effectively replace most of the current offerings under those series. Core i3 variants will make it to market later in the year.
The new Core i7 desktop processors include the Core i7-4770K, i7-4770R, i7-4770T, i7-4770S, i7-4770 and i7-4765T — all selling for $303 except for the i7-4770K that sells for a slight premium at $339. The Core i7-4770K and i7-4770 are identical in almost every way with a few exceptions. The K version comes with an unlocked multiplier and is 100MHz faster out of the box. The Intel vPro/TXT/VT-d/SIPP technologies have also been removed from the K series.
The Core i7-4770S and i7-4770T are members of the low power series and as such the TDP has been reduced from 84w down to 65w and 45w, respectively. A determining factor in achieving this lower consumption is a lower CPU base frequency, reduced from 3.50GHz to just 3.10GHz for the i7-4770S and 2.50GHz for the i7-4770T.
All Haswell Core i7 desktop processors feature 4 cores with 8 concurrent threads when using Hyper-Threading. The Core i7-4770K operates at 3.50GHz with a Turbo Boost frequency of 3.90GHz, while the non-K version features the same Turbo Boost frequency with a base clock of 3.4GHz. They are designed to work with DDR3-1333/1600 memory and feature an 8MB L3 cache.
The most interesting of the Core i7 range is the 4770R, which operates at 3.20GHz with a Turbo frequency of 3.90GHz and uses the BGA package. This model dumps the HD 4600 Graphics used by all other desktop Core i7 processors and instead opts for the more powerful Iris Pro Graphics 5200. The only downside to this chip is the L3 cache reduction from 8MB to 6MB.
Intel is also offering a lower clocked model, the Core i7-4765T which has a TDP of just 35 watts and comes clocked at just 2.0GHz with a 3.0GHz maximum Turbo frequency.
Then there is the new Core i5 series which features the i5-4670K, i5-4670 and i5-4570 processors priced at $242, $213 and $192, respectively. There are also the Core i5-4670T, i5-4670S, i5-4570S, i5-4570T and Core i5-3450S low power models. We know, it gets very confusing, so let's talk about the standard processors first.
All standard Ivy Bridge Core i5 processors carry an 84W TDP and feature four cores and four concurrent threads. The only Core i5 processor to differ from this configuration is the i5-4570T which features two cores with Hyper-Threading for four threads.
The Core i5 range is clocked aggressively: the i5-4670K and i5-4670 operate at 3.40GHz with a Turbo Boost frequency of 3.80GHz. Meanwhile the i5-4570 is clocked at 3.20GHz with a Turbo frequency of 3.6GHz.
All Core i5 processors feature a 6MB L3 cache, with the exception of the i5-4570T, which has been downgraded to 3MB. All desktop Core i5 processors use the HD Graphics 4600 engine without exception.
The low-power Core i5 range is equally confusing. The four models available at launch are different, though many of them occupy the same price range. The Core i5-4570T is essentially a Core i3 processor with Turbo Boost added. This processor operates at 2.90GHz with a Turbo Boost speed of 3.60GHz. However like the Core i3 processors, the i5-4570T features only two cores with Hyper-Threading support and a smaller 3MB L3 cache, it is said to cost $192.
Then there is the Core i5-4670T and i5-4670S (both $213). The i5-4670T features a thermal design rating of 45w and works at 2.30GHz with a Turbo Boost frequency of 3.30GHz. The i5-4670S is actually faster, working at a base clock of 3.1GHz with a Turbo Boost frequency of 3.8GHz. As you would expect the i5-4670S has a higher TDP rating of 65w.
Finally, we have the Core i5-4570S and i5-4570T processors (both $192) which feature a TDP rating of 65w and 35w, respectively. Both CPUs have a base clock of 2.90GHz with a Turbo Boost frequency of 3.60GHz.
4th Gen Intel HD Graphics
Intel debuted on-die HD graphics with the Westmere architecture, although to be precise it wasn't actually on-die but on-package, meaning the graphics engine was separate from the CPU. Furthermore, it was built using the 45nm process and not the same 32nm process used by the actual CPU.
Then the second generation graphics (Sandy Bridge) changed all that by including the GPU on-die. Even though both processing units were under the same roof, the GPU was still independent of the CPU. It featured its own clock domain that could be set independently and could be powered down as needed.
This same design principle was used for Ivy Bridge, Intel simply added more horsepower. There were two versions of the Intel HD graphics with the Ivy Bridge processors using either the HD 2500 or the faster HD 4000 engine.
The shaders, cores and execution units are what Intel calls EUs (Execution Units) with HD 2500 featuring six and the speedier HD 4000 getting sixteen. Interestingly, most Core i5 desktop processors used the slower HD Graphics 2500 engine, while all mobile processors received the 4000 engine.
Haswell offers many more flavors of built-in graphics.
Starting at the bottom of the food chain we have the Intel HD Graphics 4600/4400 and 4200. The next level up is the Intel HD Graphics 5000 and then Intel Iris Graphics 5100 and Iris Pro 5200.
Now because we only have the Core i7-4770K today we can show you how the Intel HD Graphics 4600 performs. This is the choice of built-in graphics that a wide majority of Core i7 (all except one) and all Core i5 desktop processors will receive. The HD 4600 gets 20 EUs, a 25% increase over Ivy Bridge. The clock speed has also been increased from 1150MHz to 1250MHz, a mild 9% bump in frequency.
The Intel HD Graphics 5000 and Iris Graphics 5100 receive 40 EUs awarding them twice the power-performance of HD 4xxx. Then the Iris Pro Graphics 5200 which still features the same 40 EUs gets a large embedded DRAM cache to improve bandwidth performance.
Gigabyte Z87X-UD3H
The Z87X-UD3H is one of Gigabyte's more affordable Z87 motherboards featuring the Ultra Durable 5 design. The board itself is a standard ATX model which features a matte black PCB with black and gray connectors. Adding a little flare are a number of large heatsinks which feature some blue highlights.
The motherboard layout and design is similar to what we have seen from Gigabyte in the past and it features the typical range of enhancements. The board features all IR Digital Power Design (IOR International Rectifier) with IR digital PWMs equipped with IR Powerstage ICs. Meanwhile the PCB itself is a 2-layer copper design and is equipped with Durable black solid capacitors.
Other features include Intel Gigabit LAN with high ESD protection using the new Intel I217-V controller. The famous UEFI and DualBIOS support exists and Gigabyte has added an LED indicator to signal any problems.
The second generation On/Off Charge feature is included for quick charging mobile devices via USB. Gigabyte has also included a gaming headphone amplifier for enhanced audio quality, while audio is provided using the Realtek ALC898 HD audio codec.
While the Z87 chipset provides six USB 3.0 ports and six SATA 6Gb/s ports, Gigabyte has upgraded both. The Z87X-UD3H offers a total of ten USB 3.0 ports thanks to the inclusion of the Renesas uPD720210 controller and eight SATA 6Gb/s ports with the help of the Marvell 88SE9172 controller.
The Marvell 88SE9172 controller can be switched to provide either two extra onboard SATA 6Gb/s ports or two eSATA 6Gb/s ports, but not both at the same time. Along with the ten USB 3.0 ports the board also provides eight USB 2.0 ports, two on the I/O panel and the rest via onboard headers.
Overclock friendly features include a Debug display near the DIMM slots and Quick buttons to allow Power On/Off, Reset, CMOS Clear, Dual BIOS, Smart Voltage and much more.
The Z87X-UD3H supports 2-way Crossfire and 2-way SLI technology using two PCIe x16 slots. As is the case with Ivy Bridge the Haswell processors only provide enough PCIe lanes for a x16/x8 configuration when using two graphics cards.
There is a third full length PCIe x16 slot, though it is only wired for x4 bandwidth. Meanwhile there is two PCIe x1 slots positioned between the primary and secondary PCIe x16 slots, followed by a traditional PCI slot.
Around the back on the I/O panel we have six USB 3.0 ports, a PS/2 port, optical digital audio, six audio jacks, Gigabit LAN and dual eSATA ports. There is also a VGA, DVI, HDMI and DisplayPort for utilizing the integrated video.
Read More...
---
Republished with permission from:
Steven Walton is a writer at TechSpot. TechSpot is a computer technology publication serving PC enthusiasts, gamers and IT pros since 1998.