On PC, Fallout 4 is an endless sea of possibility. Anything you can imagine, you can probably download as a customization and insert it into the game.

Quality of life improvements. Characters from movies, TV shows, and books. Ridiculous weapons that shouldn't exist. Oh, and titties. Lots and lots of titties.

Massive NSFW warning!
Fallout 4's burgeoning custom "mod" scene has a naughty side to it, as is tradition for Bethesda games released on the PC. It's a cliché now, really. Here's what came up when I searched for "Skyrim mod"—just those two words—on YouTube:

At the center of this all is a popular mod called 'Caliente's Beautiful Bodies Edition,' a Skyrim modification that gives players more control over the customization of female characters. Created by a modder who (appropriately) goes by 'Caliente,' CBBE is a large part of the reason people associate "Skyrim modding" with naked vixens. CBBE characters spread through the internet with the speed of, well, naked pictures of attractive women. As of this writing, CBBE has been downloaded a whopping 8.2 million times.
G/O Media may get a commission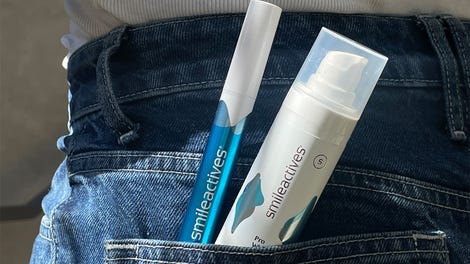 58% off
Whitening Powerhouse Pen & Gel Duo
I caught up with Caliente via email to ask about the vast, racy modding empire inspired by CBBE. A programmer with a love for digital art, CBBE was actually the first mod Caliente released to the public. Caliente made it from scratch, using 3D animation programs such as Blender.
"The popularity was a little unexpected," Caliente said. "It feels really amazing to have so many people using and enjoying my work, and I like thinking that I've helped make the games a little more enjoyable for people. The fame is strange...and kind of fun sometimes...but since it's relegated to an internet name, it's sort of like having a secret identity."
Caliente initially saw the Skyrim version of CBBE as a way to "fix" the character models."The vanilla artwork [in Bethesda games] doesn't appeal to me very much," Caliente said. "I find the proportions to be fairly bulky, with wide shoulders and smaller hips to my taste."
"At the same time, bodies come in a lot of different shapes, and people like different things, so I like to be able to provide a way for people to get the looks and variety they want, even if it doesn't match what I would use myself," Caliente said.
Caliente said that tweaking the character models was important to the modder because it helps with playing dress-up, something Caliente is passionate about. Caliente views bodies and clothes as a means of expression that "cool guns, powerful statistics, and buckets of gore" can't account for.
"All of the outfits were bulky and formless and not much fun to put on," the modder said. "One thing I love to do in games is to find interesting and pretty outfits for my character, so I wanted to make the default ones look better in my eyes. Starting from that basic idea, I decided to work on a body replacement, in order to have a prettier figure to fit the clothes to."
Here's a distinction that Caliente feels strongly about: CBBE is not a nudity tool necessarily, but rather a body modification mod. It just also happens to be used in a very specific way by some players. At the same time, you can't blame anyone for immediately thinking about nudity, given how the mod is presented online:
Caliente says that the original hope was that, by making the mod public, other people would make more custom outfits for specialized Skyrim models. However, Caliente got wrapped up in making the tool as user-friendly as possible, allowing the mod to cater to whatever wants a player might have. It's no wonder that it exploded in the way that it did.
Five years after the first version of CBBE, there's a Fallout 4 version of the mod, too. Though it's been out for less than a month, it's already been downloaded more than 340,000 times, making it one of the most popular Fallout 4 mods around.
The mod has become so big that Caliente now enlists the help of two contributors, Jeir and Ousnius, to work on CBBE as well. Caliente estimates that they have spent much more time helping create mods for Fallout 4 than actually playing the game.
While working on this story, I naturally decided to take CBBE for a spin. Caliente's base CBBE mod lets players pick between a few different presets for female characters: slim, curvy, and vanilla. Players also have control over the model's lingerie (or lack of it). Using the mod, a character can go from looking like this standard Bethesda model…
To looking like this:
Or like this:
The basic version of the mod doesn't offer many options, but things get much more detailed with Caliente's "Body Slide and Outfit Studio," a tool that can be used in conjunction to CBBE for custom characters. It's not nearly as popular as the main CBBE mod—at current, Body Slide has been downloaded a mere 97,000 times—but it's a tool that grants you ultimate control over your character. Every attribute you can think of (and many that you probably can't) has a slider that manipulates a specific part of the body, like so:
Some of the options, like "butt size," are straightforward. There are unusual options, as well—you can tweak armpit height, for example. Then you have sliders for "melons," which is apparently different from "breast size" and "cleavage." A few even left me wondering, like, what does "Fantasy" mean, exactly? What does it mean when I max out the "Fantasy" slider? I have no idea.
As you adjust the sliders, you watch your character take shape on the right side. It's a curious experience. On the one hand, I know that Fallout 4 itself is not a particularly sexy game. Romance is relegated to passing a dice roll on your Charisma stat, and getting lucky simply means watching the game fade to a black screen. In theory, adding curvier, more traditionally sexy women to the game feels somewhat subversive. At the same time, adjusting all the sliders in Body Slide feels similar to filling out an application at the DMV.
Therein lies the brilliance of Caliente's work, though: By making mods like CBBE and Body Slide, the modder has given curious players the tools they need to make mods of their own without having to do the heavy lifting. Whatever Caliente doesn't include, other people are happy to create themselves, modding Caliente's mod into a more modded mod.
I spoke to a modder named Fiddlestickz, for example, who created a CBBE mod that lets players grow pubic hair in a few different styles. Why not? One of the designs is actually based on an actual porn actress, Riley Reid. Most of them, though, are just manifestations of Fiddlestickz's own ideals. Similarly, Caliente says the presets that CBBE comes bundled with are just figures that the modders and their collaborators like.
Many NSFW mods floating around the internet can serve as a window into the libido of the savviest RPG fans. It's striking how many of these mods are billed in terms of creating THE dream girl: this one is the mod that's sculpted the perfect woman, or that this one is the ultimate fantasy girl.
There's a limit to the fantasy surrounding these mods, though. Some promise "lore-friendly" titillation, so they'll provide, ultra-sexy characters caked in dust, grime, and displaying visible injuries. Hey, just because you're an ultimate fantasy bombshell doesn't mean you're impervious to the hazards of the wasteland. Or something like that.
Several modders I spoke to cited the importance of alterations that don't take the player out of the moment. Ubercharge, the creator of the body mod in the picture above, put it to me this way: "If you look how dirty/dusty/rough [the] environment of Fallout 4 [is], suddenly [CBBE bodies look out of place]. Perfect bodies will break you out of the immersion. There is no use for nice bodies if your brain doesn't believe it's real." The Fallout 4 Nexus, which is the biggest modding hub for the game around, even has a lore-friendly search category.
Nudity mods have a certain reputation, and onlookers can be judgmental about that. The modders I spoke to know that, of course. All the same, Caliente emphasized how "friendly, helpful [and] smart" modders are. Caliente pointed out that people often don't get paid for the tremendous amount of work they put into mods—Caliente has gotten some donations from fans, but some of the programs used to make the content are expensive, too. There's no profit in it.
"[Nudity modders are] certainly not any more maladjusted or depraved than someone who spends days creating a mod that enhances the violence and gore of combat," Caliente said. "The main difference being that the latter mod isn't considered an adult mod."
"I hate it when a person using CBBE (or other body mod) is accused of being perverted or misogynistic when their use is clearly not," Caliente said. "And, there's a longstanding, prevailing opinion that nudity is offensive, and there are trolls who like to put down anyone who makes or uses that kind of content."
Another modder I spoke to, XunAmarox, is the creator of "CBBE Innies"—a mod that transforms vaginas in Fallout 4. You know how belly buttons can be innies or outies? Similar concept, except with labia. Helpfully, the mod page has a diagram that can show you the difference:
"I suppose you could say that [the mod is] based on someone very particular," XunAmarox said. "Namely, me. Yep, I've got an innie pussy myself." XunAmarox plays Fallout 4 with her own mod—but that doesn't mean she runs around the game completely naked, either.
"I wear clothes, or armor," XunAmarox said. "I play the game about like anyone else." This is not an unusual answer among the modders I spoke to for this article; for lots of people, it's the idea of the thing that matters. Kind of like when people treat themselves to nice lingerie in real life even if they're not planning to throw down with anybody in particular.
"I think most people probably aren't using nude mods for the same reasons that they use porn," XunAmarox said. "I think a lot of people use them because the human body is beautiful—and I don't even mean that in a sexual way. You typically have better detail with body and texture mods than you'd have otherwise, and it adds realism to games as well. After all, not every NPC out there is going to have the same exact pair of white lingerie."
By now, you've probably noticed that there are far more nudity mods for women characters than for male characters. There's actually a logistical reason for that, XunAmarox told me. Not only are female mods higher in demand, male nudity mods—which do exist—are harder to make. She explained that penises and balls require mesh editing and 3D modeling, which is a lot of effort for something that may not gain traction among the community.
When I asked Caliente about that, I was told me that female models in Bethesda games get the short end of the stick.
"The quality of male artwork seems to be superior to that of the female ones, and in many cases it's clear that the male art is done first then later re-purposed for the female versions," Caliente said. "This leads to less motivation to improve what's not broken."
Caliente says that the CBBE mods don't have an "intentional" focus on women. Rather, Caliente prefers to play as women in games, and the mod grew from wanting to improve the modder's own experience.
"Given the time, I'd absolutely love to provide a similar mod for the male bodies too," Caliente said. "For Skyrim, other modders got to it before I did, and it became less useful for me to enter the field with my own version.
"Fallout 4 doesn't have an option yet, of course, so if I can get to it before someone else does, I'll try to make one that people enjoy!"
Illustration by Jim Cooke.