Sucker Punch, know this: we're going to keep an open mind about inFamous, your upcoming sandbox game for the PS3. If only because you've probably worked really hard on it, it may play real well, and Sly Raccoon was pretty great. But really, a future with rubble, a sandbox game set in a city, a ridiculously capitalised title...it's going to have an uphill struggle to capture people's imaginations, you know?
These Great Fortnite Creative Maps Show Us What's Possible
G/O Media may get a commission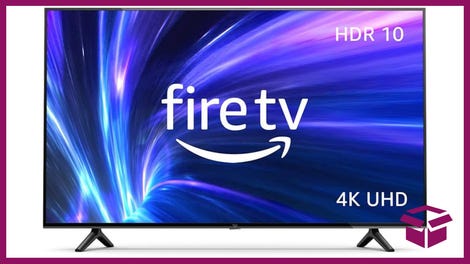 42% Off
Amazon Fire TV 50" 4K Smart TV
24th June 2008 – If society collapsed tomorrow and you found yourself with unique powers that could either help people or hurt them, which would you do? That's the question at the centre of inFamous, the forthcoming PLAYSTATION®3 (PS3™) title from Sony Computer Entertainment Europe (SCEE). Developed by Sucker Punch Productions, this open-ended, free-roaming game puts you in the shoes of Dylan, an everyday guy and urban explorer, in the aftermath of a huge disaster that destroys his hometown of Empire City. As Dylan, you must first learn to use new found powers and then decide how you will use them.

After the explosion, Empire City falls into chaos and Dylan must use his new powers and climbing agility. Along the way he will unravel an evolving mystery, experience fame and/or infamy, and battle powerful, iconic villains. inFamous gives you the freedom to play how you want, whether that's aggressively, tactically or stealthily – be warned, however, that the city's people and environment will react to what you do. Events will unfold based on the role you take and your actions will create broader reactions in the citizens and landscape around you.

Developed by Sucker Punch Productions, the studio who gave PlayStation® the acclaimed "Sly Racoon" franchise, inFamous brings you a new type of superhero – an uncertain man with the weaknesses of a normal human being. What will you turn Dylan into? The choice is yours when inFamous for PS3 arrives in 2009 for PAL Markets.