Wednesdays are new comics days at comics shops in North America. Every week, I recommend some of the new comics to get at the shop or on an iPad. This week is huge for Superman and general DC Comics fans, not so huge for fans of video game comics.
Comics You Should Consider Buying (from comics shops)
Action Comics #900 The first American comic book with 900 consecutive issues—and the series that birthed Superman—hits an incredible milestone today. This oversized issue wraps up writer Paul Cornell's great tale about Lex Luthor's latest quest for power and includes back-up stories by everyone from Superman movie director Richard Donner to Lost co-creator Damon Lindelof.
Brightest Day #24 DC Comics' latest big universe-changing series wraps up, hopefully with some explanations as to the fate of Hawkman, Hawkwoman, Firestorm, Martian Manhunter, Aquaman and that other character who made a surprise return in the penultimate issue. Expect shake-ups here and a lead-in to the next big universe-changing series in DC's multi-year daisy-chain of grand super sagas. (Note: DC's better 24-issue series of late, Justice League: Generation Lost, also concludes today, but probably with less significance for the future.)
G/O Media may get a commission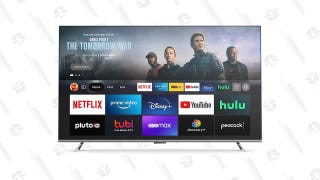 Save 46%
Fire TV 55" Omni Series 4K UHD Smart TV
I Will Bite You I can't vouch for this graphic novel yet, but I've heard good things and it has an excellent cover (see?). Official summary: "Will Bite You! includes the Best American Comics selection, 'Turtle Keep it Steady,' plus several new stories. Juxtaposing an economy of line with sophisticated, unusual narratives, this is the long-awaited debut of an artist many are watching with interest." Hmm. That doesn't help, now does it? Thumb through it, I guess!
Love From The Shadows A new graphic novel from Love & Rockets' seldom-disappointing Gilbert Hernandez. I've been more excited by his brother Jaime's recent work, but I'd long favored Gilbert and am always interested in seeing what he's up to next. Sometimes Gilbert's work is creepy, which you might pick up on from this official summary: "This volume continues the career of B-movie actress Fritz, who first appeared in the Love & Rockets graphic novels. In this 'movie', a beautiful waitress and her brother visit their estranged father in order to find out why their mother committed suicide. The story weaves in and out of reality and possibly back in forth in time. To complicate things further, the sister is sexually obsessed with a mysterious man throughout the tale - or is it her brother? And that's only the tip of the iceberg."
Mighty Thor #1 In which writer Matt Fraction begins a tale that involves Thor fighting Galactus.
Secret Avengers #12.1 Writer Nick Spencer, a favorite of these round-ups, begins his short run on this Avengers spin-off. This is one of those standalone .1 issues. Spencer's reliable and often excellent. Worth a shot.
Comics With Video Game Connections (new this week in comics shops)
Infamous #4 Official summary: "Cole survived his first encounter with David, a horrific creature of unimaginable power, but now he must contend with Trish Dailey, his dead girlfriend . . . who's now working for Agent Moya."
And Over On The iPad…
Standouts in this week's Comics app from Comixology include this columns' previously-recommended Infinite Vacation. The first two issues of the Nick Spencer-written series are $2 each on the app. They start a short story about a world in which people can constantly hop into other versions of their lives. Of course, something goes horribly wrong. For some reason, Paul Kupperberg's four-issue Peacemaker series is also available now. I've never heard a thing about it, but I've mentioned it here to simply commend the Comixology people for getting a DC comic from the 80s on their service. Most of the DC and Marvel comics sold on the app have been published in the last 15 years, which is costing Comixology a lot of my potential spending power. Along the same lines, 12 issues of Walt Simonson's Thor, a bona fide 80s classic from Marvel, are now for sale on the app, $2 each.