Let history designate Martijn Reuvers and his team at Dutch indie studio Two Tribes as an ambitious lot. They recently tried to convince Nintendo and Valve to work together—specifically, to let their Wii U game talk to their Steam game. And that went... kind of okay?
Sadly, not okay enough. But pretty well, Reuvers told Kotaku today over e-mail.
The issue was this: Several months ago, Two Tribes released Toki Tori 2+ as a downloadable eShop game on Nintendo's Wii U console. They planned to add a level editor. They put the game out on Steam as well. Sadly, the Wii U game didn't sell super-well, and they couldn't implement a Wii U-centric level editor that allowed users to easily share levels across the Wii U's MiiVerse social network. Unbowed, Reuvers' crew got an idea...
"Our dream was basically to let users create levels on whatever platform they'd prefer and that they would be able to share it through Steam Workshop," Reuvers said in his e-mail. "So we came up with a proposal that would allow Wii U owners of Toki Tori 2+ to login to Steam, so that they could make use of that functionality. Kinda what Valve did with Portal on the PS3."
G/O Media may get a commission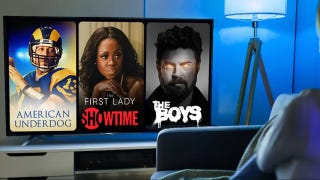 UNDER $1
99¢ Prime Video Channels
And?
"Nintendo and Valve reacted very positively and we had some calls and e-mails with both parties about this proposal."
People... Nintendo and Valve... working together....Steam Workshop on Wii U. Just a hop skip and a jump from Portal 3 featuring warp pipes and Shigeru Miyamoto announcing Half-Life 3!
Alas...it wasn't meant to be, at least not right now.
"After doing a thorough technical check, we decided that in order to create a near seamless integration, we needed more functionality that was out of our control. Unfortunately things like this take time and cannot be implemented overnight. So for Toki Tori 2+, it was too late at that point. However we still are in contact with them, so should things change, we'll definitely revisit it again."
At least we can say that Two Tribes' ambition is rivaled by their generosity. The studio has decided that, in lieu of offering a level editor on the Wii U, they'll just give each Wii U owner of their game a free copy of the game on Steam. If you have a Wii U copy, read this Two Tribes blog post to find out how to do that.
We reached out to reps for Valve and Nintendo for more comment on the matter, in part because they should have their say but also because it's fun to be able to e-mail Valve and Nintendo with a legit reason to ask them if they discussed working together. Valve PR man Doug Lombardi confirmed Reuvers' account but did not bite on our question about whether Valve and Nintendo have ever talked about having Steam and Wii U games integrate with each other. Nintendo's rep hasn't replied yet, but if they have comment, we'll let you know.
Just imagine the combo here. Nintendo and Valve.... Wario in Counter-Strike. No? OK. Bad idea. Steam Workshop support for the Wii U, though? Why not?
To contact the author of this post, write to stephentotilo@kotaku.com or find him on Twitter @stephentotilo.