Sorry if that sounds a little crass, but recently Metroid star Samus Aran took to the stage during a burlesque show in LA, and that's exactly what she did.
The lady under the armour is performer Courtney Cruz, who is part of Devil's Playground, the same group behind other evenings of male nerd wish fulfillment like "Video Game Girls Take Their Clothes Off" and "Star Wars Girls Take Their Clothes Off".
This being a burlesque show, and not a strip show, things are kept relatively tasteful, but still, the basic point remains this is a show about women taking most of their clothes off, so if you're at work or there are wee ones around, might want to save it for later.
Ladies of Sci-Fi Burlesque: Pris from 'Blade Runner,' Aeon Flux, Ripley from 'Alien' & More [LA Weekly]
G/O Media may get a commission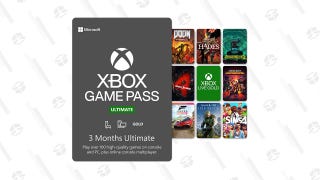 Save 11%
Xbox Game Pass Ultimate: 3-Month Membership