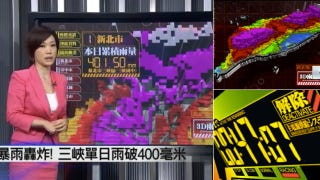 Kotaku East
East is your slice of Asian internet culture, bringing you the latest talking points from Japan, Korea, China and beyond. Tune in every morning from 4am to 8am.
Rain has been hitting Taiwan hard. As Taiwanese people check the weather, they might notice something familiar: that 3D rainfall map sure looks like something out of Neon Genesis Evangelion.

The font and the interface resemble Evangelion style computer graphics in what *looks* to be a clever, viral Eva cross promotion with Taiwan's Next Media (those people behind the news animations) and the folks behind Evangelion. Neat weather map, but shame about the flooding!
Neon Genesis Evangelion is a popular multi-media franchise that debuted in the mid-1990s as an anime. It has since launched video games, toys, and even clothes. Watch the original anime's here.
天氣報告也能很有風格 壹電視3D累積雨量圖 類似EVA福音戰士顏色設計 [Aniarc]