Plagued by the noxious emissions from Evil Inc.'s industrial complex, the citizens of Burnstar's Fairway Island have only one course of action: blow it all to hell. It's so very Bomberman of them.
It's been five years since we've seen a new Bomberman title on PC or console, and it hasn't really felt like license-holder Konami's heart's been in it since the attempted 2006 gritty reboot of the series resulted in one of the worst games of the last generation. Since 2010 all we've seen is a cancelled 3DS game and a handful of half-assed mobile titles.
While our explosive hero slowly decomposes in Konami's closet along with a bunch of partial signs reading "A Hideo Kojima Game", Nerve Software has taken that basic bombing mechanic and used it as the basis for an incredibly clever action-puzzle game that just happens to be rife with four-way explosions.
The basic idea of Burnstar is to use bombs scattered throughout the game's levels to destroy objects and collect the stars necessary to move to the next level. Then Nerve slowly folds in complications. Colored boxes have tiers of flammability—an orange box spreads fire to yellow boxes, but not to red. Relentless enemies appear, disguised as level scenery. Switches, jump pads, whirling blades, cannons—within the first set of levels the game goes from cute to challenging in no-time flat.
G/O Media may get a commission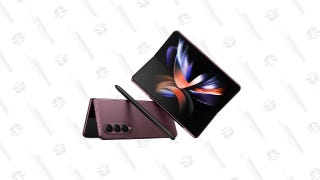 Save Up to $300
Galaxy Z Fold4
And then just as the thoughts of Bomberman start to fade, the first boss level arrives, featuring a mad bomber chasing you through a rectangular maze of crates. Check it out in the video below.
If anything, Burnstar is the thinking persons' Bomberman, where the player must stop and carefully consider the placement of their explosive devices for maximum effect. I also would have accepted Puzzle Bomber.
The decision to play in the first place takes far less careful consideration. With four playable characters, two-player local co-op and tons of levels to explore, unlock and conquer, Burnstar is a real—I was going to say blast, but I'm going with hoot instead as to not be that guy. It's available now for $8.99 on Steam.