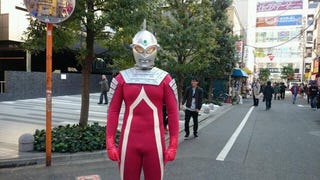 Can't a person just walk around the city dressed as Ultraseven without being questioned by the cops? Is that too much to ask? Guess so!
Since mid-2013, a person dressed as late-1960s superhero Ultraseven has been spotted around Tokyo. The Ultraseven has been seen numerous times at train stations, carrying a briefcase, as if commuting. Sometimes, the superhero is shopping.
In the past few years, the Japanese police have been known to stop folks in costume who wander the streets. I assume the police think they're "suspicious," especially if the cosplayer is completely encased in the outfit and carrying around a black bag.
Note the photos below are not from the same day, dating from last summer to last night during which the iconic superhero was questioned by the Tokyo police.
[Photo: kazuma093]
[Photo: kontetu1]
[Photo: metan_0715sa]
[Photo: atk_dream]
[Photo: RyotaRase]
[Photo: naagabsk619]
[Photo: mogyumogyu2]
[Photo: zettairyoiki_p]
[Photo: Chan_uji]
[Photo: fumitake1969]
[Photo: affiliateno3x]
[Photo: nunx3]
[Photo: HONEY0903]
[Photo: daigo_tf]
[Photo: kazu_10_28]
[Photo: hairu5_8]
[Photo: daigo_tf]
[Photo: lears33]
Kidding! The above photo is from the Ultraseven series. The cosplayer seems to have only been questioned by the police.
[Photo: CakeHw]
[Photo: ienama_cha]
Hang in there, Ultraseven!
アキバにウルトラセブン現る [@takegtx]
To contact the author of this post, write to bashcraftATkotaku.com or find him on Twitter @Brian_Ashcraft.
Kotaku East is your slice of Asian internet culture, bringing you the latest talking points from Japan, Korea, China and beyond. Tune in every morning from 4am to 8am.