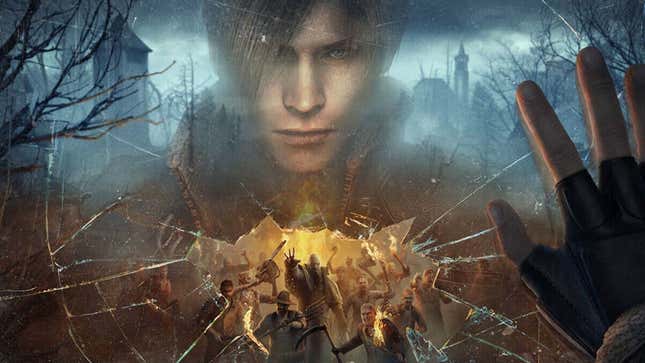 Back in 2005, when I was younger, Resident Evil 4 looked so cool. Then I found out that it would only be released on the Nintendo Gamecube, which I didn't own. My dreams were shattered because I was a dumb kid and didn't realize that one day it would come to more consoles. Since that sad moment in my life, RE4 has been released on nearly every platform possible. And every time a new port is released, I can't stop myself from buying it again and again.

Comparing Resident Evil 4's Chainsaw Demo To The Original Game
(This post was originally published on January 19, 2019. It's been updated to include more information on the recent port and upcoming remake.)
Resident Evil 4 is a very good survival horror game. It stars Resident Evil veteran Leon Kennedy on a mission to save the President's daughter after she is captured by a weird cult hiding out in a non-specific part of Eastern Europe. This scary game is one of the best ever made and it's become one of the most popular horror games of all time, endlessly appearing on various lists of the best scary games to play in October.
At the time of its release, it was a big deal. It shook up the Resident Evil franchise, ditching the static camera and tank controls of the older games for an innovative behind-the-shoulder view that helped make the action feel more exciting and in-your-face. The game ended up reviving the Resident Evil franchise and expanding its fanbase. And as one of my favorite games of all time, I can't stop buying and playing all the ports Capcom pumps out to appease the seemingly never-ending demand surrounding RE4.
For example, when it was announced in 2018 that RE4 was coming to the Switch, I remember getting really excited. I might have even pumped my fist in the air upon reading the news. Then I had a moment of realization. Was I really cheering the news that a game I have bought many times before and finished multiple times in the past was getting ported yet again? What was wrong with me, I wondered to myself after getting excited about the Switch port. Yet, considering that Capcom keeps releasing the fantastic Resident Evil 4 on every new console capable of running it, it seems I'm not alone in my Resident Evil 4 obsession. So actually, the question is: What's wrong with all of us?
When it was announced last year that Resident Evil 4 would be ported to the Meta Quest 2, I immediately opened up Amazon and ordered the VR headset. I had already been thinking about getting it, but the news of a new RE4 port pushed me over the edge. I entered some kind of fugue state and before I knew it I had purchased a VR headset. Luckily for me, that recent port ended up being amazing and it might be the best way to play the game, assuming you have the space and stomach for virtual reality.
As of October 2022, I currently own Resident Evil 4 on (deep breath…): Xbox 360, Xbox One, PS4, PS2, Wii, PC, and Meta Quest. I even played that awful Android port that nobody remembers. Did you know that RE4 was released on a console called the Zeebo? This console was only available in Mexico & Brazil and I spent way too much time actually trying to buy one. I ask again, what's wrong with me?
It's hard for me to get tired of Resident Evil 4. It has the perfect opening segment, fantastic pacing, the Autumn-like atmosphere that makes it perfect for playing around Halloween, and intense action all combine to create something that I still can't get over nearly 20 years after its release.

One reason I keep coming back and playing each new port is that they often change the experience in various ways. For example, on the Wii, you use motion controls to aim, and it's actually an effective and fun way to play. Meanwhile, the newer console ports improved the game's performance and controls. And the VR version added more interactivity with objects and weapons. None of these changes ruin or detract from what makes RE4 so good, but do offer yet another reason to come back and play one more time.
At this point, I've made my peace with the fact that I'll never stop buying Resident Evil 4 in any and every form that shows up. Yes, I'm excited about the newly announced remake. Even worse, I'll be there in 10 years when that remake gets ported to some new generation of consoles or VR headsets, ready to once again help Leon Kennedy save the day and kill some Las Plagas. Again. (Again.)