Twelve world wonders, strewn across a massive landmass, all overrun with monsters. And it's your job to clear them out, of course.
Wayward Wonders is a CTM or Complete The Monument map, meaning that the objective is to collect blocks—in this case, by defeating the monsters at each of the dozen world wonders, seen below:
The "main quest" involves collecting twelve blocks from the wonders and a thirteenth one from the final boss—all the while dealing with the usual Minecraft survival stuff, like crafting, finding food and building shelter—but there's also a crapton of collectibles and side quests, making this a bit of an open-world RPG experience. Check out the list of features:
Two monuments to complete (28 blocks total; 15 optional)
Customized bosses, minions, hostile mobs, tamable mobs, mob gangs, and villagers
Customized dungeons, temples, villages, and loot
Side quests, moral choices, and NPC tasks
Customized and unique items, potions, and enchantments
Spirit Stones (13 total) that give temporary buffs
A Fast Travel system, Spawn settings, and optional random location teleports
Legendary weapons, tools, and armor
Dozens and dozens of armor sets
Triggered events, XP gains, dialogues, and game rules
Experience shops and customized villager trading
Command block-powered fluidity (no mods needed!)
Open world freedom and random encounters
Customized terrain
To-scale Ancient Wonders of the World!
Here's a sample of the included wonders:
G/O Media may get a commission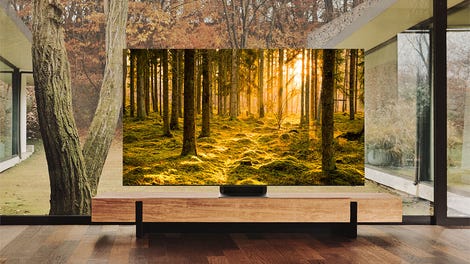 Up to 40% off
Samsung Smart TVs
And a short video where the creator explains what the map is all about:
If you're interested, visit Wayward Wonders' official thread on the Minecraft Forum for the download. It's relatively large at 665MB, and as a result, loading times are a bit long as well, so expect some waiting time when you first head in-game.
Dayshot is an image-based feature that runs every morning, showcasing some of the prettiest, funniest game-related screenshots and art we can find. Send us suggestions if you've got them.
Questions? Comments? Contact the author of this post at andras-AT-kotaku-DOT-com.