This weekend, it was announced that Kingdom Hearts III will be released in 2018 and feature a Toy Story world. In the most recent Weekly Famitsu and on Famitsu.com, KHIII director Tetsuya Nomura revealed how Toy Story finally came to Kingdom Hearts.

These Great Fortnite Creative Maps Show Us What's Possible
As Kotaku previously reported, longtime Kingdom Hearts director Tai Yasue told us in 2012 his dream world would be Toy Story. Likewise, Nomura has long wanted Toy Story to come to KH.
What was it about Kingdom Hearts that was so appealing to Nomura? "First, Toy Story was a pioneering CG movie, and so the look of it has a certain catchiness. As it's Pixar's signature work, it also has a high degree of recognition. And another reason is that it suits the world view of Kingdom Hearts. I've always thought that with the 'toys have souls' element, we'd be able to do a Kingdom Hearts style story."
When Nomura wrote the plot, he was working with the assumption that it was going to be set between Toy Story 1 and Toy Story 2. That changed, however. "Finally, it turned into a story that's set after 2." So this world is set between the second and the third Toy Story films.
G/O Media may get a commission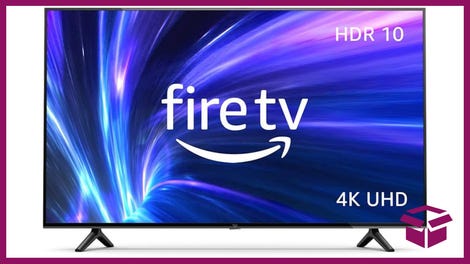 42% Off
Amazon Fire TV 50" 4K Smart TV
From the sound of it, Nomura believes Toy Story is a natural fit for Kingdom Hearts. According to him, the KHIII team was easily able to bring the in-house character design style to the world of Toy Story. Sora is done in a fitting toy style, which was conceived by the game's art director with Pixar input. (This isn't in the trailer, but Nomura explains that Rex the dinosaur mistakes Sora for a video game character, which sounds like a playful wink from Square Enix.) While the game appears to be an amazing Toy Story recreation, Famitsu pointed out that the trailer didn't feature the original Japanese voice actors for Buzz and Woody, and Nomura explained that this was a decision on Disney's end. (So, don't hold your breath for Tom Hanks and Tim Allen?)

"For me, because I wanted to put this world into [Kingdom Hearts] since KHII, I am deeply moved that it's actually happened," Nomura told Famitsu. Nomura added felt a Toy Story world was "absolutely necessary" for Kingdom Hearts III and explained that he began talking about the possibility of doing something with Toy Story while making the first Kingdom Hearts! So, for example, when Pixar's John Lasseter came to Japan, Nomura met with him to discuss this. Lasseter asked him how he planned to bring Toy Story to KH, and Nomura explained his vision. Years later, it finally happened.
"It's taken a long time," Nomura told Famitsu, with a chuckle. Hey, the same is true of Kingdom Hearts III.
---
Kotaku East is your slice of Asian internet culture, bringing you the latest talking points from Japan, Korea, China and beyond. Tune in every morning from 4am to 8am.