The first few months of Overwatch League's inaugural season have already resulted in unexpected upsets, emerging tactics, and drama between players that has resulted in pros getting fined, benched, or released from teams. That stuff isn't just fun to follow and grist for the content mines: it's moving betting lines.
Overwatch is the newest league to show up on esports betting sites across the internet, but the entire world of esports betting is still quite green compared to its traditional sports forefathers. After all, organized and regulated esports leagues haven't even been around long enough for anyone to have experience with how a regulated betting landscape for esports should look.

Riot Games' league for League of Legends has only existed since 2013. In the years to follow, esports betting has become ever more viable, so long as you live somewhere that it's legal—thanks to pre-existing betting operators adding esports to their lineups. In 2014, Bet365 added esports contests to their site, and in 2015, Betway followed suit. Esports-focused betting operators like Unikrn, founded in 2014 and based in Las Vegas, have also risen to prominence alongside the growth of esports leagues in the past five years.

Would-be esports bettors can place bets on Bet365, Betway, Unikrn, and any number of other big-name gambling sites that now offer esports contests, so long as those bettors can prove they live in a place where it's legal. Although the tsports old guard doesn't consider esports to be a sport, the letter of the law in America still does, at least when it comes to placing bets.

If you're an American dying to place bets on esports contests, you can do it under the radar by using digital currencies, such as Counter-Strike or PUBG items (this practice is called "skin betting"), or bitcoin, offered as an option by sports betting sites like Nitrogen Sports and Loot Bet. Of course, if you choose to place bets illegally and anonymously, you'll be entering a world rife with potential scams and setbacks, so, bettors beware! If you don't live somewhere where betting is illegal, you'll find many licensed and legit ways to bet on esports contests.

Unlike their traditional sports counterparts, though, these up-and-coming esports betting operators don't have decades of data to turn to when it comes to setting up odds and noticing suspicious behavior among bettors. Some companies have built their own databases for predicting the odds, but it's a work in progress.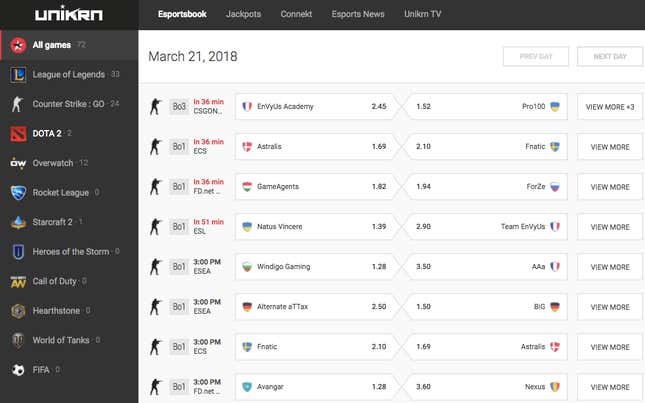 Building the esportsbook
Unikrn's co-founder and CEO Rahul Sood told Compete that the company had a rocky start with calculating odds in the early days. In traditional sports, betting sites can outsource the job of calculating odds to private companies, Sood explained. "The way it typically works is, you have data companies that are sort of like oddsmakers and then you have bookmakers that license from oddsmakers," Sood explained. Sportsbook companies like American Wagers and Vegas Sports Consultants peddle their services to betting operators in Nevada. Bet Radar has a list of licensed sports betting software companies that sell packages to would-be gambling startups.
That wasn't an option for Unikrn. When the company was founded, no similar databases existed in esports—at least, not one that was up to their standards. So, Sood explained, they had to build one "from scratch."
"To this day, I think we have the most comprehensive sports book on esports on Earth," he went on. But it was a long road to get there. "Two years ago when we started this, it used to take us—it was kind of stupid actually," Sood laughed. "It was not sustainable. But it took us about six to nine hours to create the odds for one League of Legends tournament. And now, it takes a minute. We've basically automated about 80 percent of it. Then about 20 percent of it is human interaction."
By "human interaction," Sood means the day-to-day drama of esports that can't be automated, like Overwatch pro Félix "xQc" Lengyel firing off homophobic taunts that got him benched and, later, released from his team. "There are always changes that come up, even surprise changes where there might be a roster change two weeks within a game, or two weeks before a game starts," Sood explained. "Unless you're really tracking the industry, it's hard to keep up with that."
The whole reason that sportsbooks calculate odds is to ensure that they don't lose money on hosting bets. For example, if a bettor gets offered 1:2 odds on placing a bet, they can put down $10 and get $15 back if they win. Assuming that someone else bets $10 on the other team, the final payout will be easy for the bookie. No matter which side wins, the bookie will get to keep the $5 and pay the $15 pot to the winner. But if no one bets on the other side, the house will lose that $5, rather than being able to take it from the losers' pot.
That's why betting sites want an equal number of money placed on each side of a contest, thereby guaranteeing enough in the pot to dole out to the winners and still leave a fair cut for the house. Odds are about predicting bettors' preference for who will win, not who will actually win. If a betting site misjudges what types of odds will garner equal actions on both sides from esports fans, the house could end up losing. Sportsbooks can and obviously do change the odds after bettors have put down their opening bids, but they don't want to have to do that as a frequent corrective.

Unikrn struggled with that balance in the early days. "Believe me, it wasn't easy," Sood said. "I mean, at the beginning, we were getting killed. But we learned over time how to do it, how to manage it properly, and now we're running a very good, very lean operation."
Betway, a betting operator that also offers esports contests, turns a profit in the same way. "We don't take commission on winning bets, just the stakes of those that lose," said Jon Russell, the head of trading for Betway Group. "We profit by being right more than being wrong."
Like Unikrn, Betway has an in-house system for calculating esports odds. According to Russell, "the majority of odds you will see on the site at any one time are generated by the in-house team of specialist traders who have developed their own quantitative methods and algorithms for predicting outcomes." However, Russell said, the site does use "a variety of different resources, providers and tools to formulate prices."
Betway Group claims they don't try to keep an even number of bettors on both sides, if they believe their predictions are correct. "There are many occasions where we believe our expert analysis is better than whatever else exists in the market, and we will deliberately frame prices to ensure we get a majority of stakes on one side," Russell explained. "We are happy to take on risks and lay bets, and paying people when they are right and we are wrong is all part of the competition." The math doesn't check out on that, but of course, it's always in the best interest for betting operators to act like it's possible for fans to beat the house.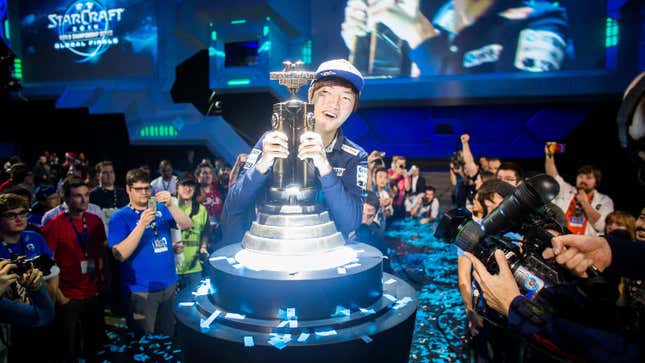 Catching the match-fixers
If a whole lot of esports fans suddenly show up and bet on only one side, that raises eyebrows among betting operators. It could be a sign that a team or a pro player has plans to throw the match and profit by betting on their opponents.
This past week, a StarCraft pro and a betting site operator got arrested in South Korea for collaborating on a match-fixing scheme. The StarCraft scene has a history of match-fixing scandals, as does the Counter-Strike scene, and every now and then, League of Legends does too.
"Any time we have, for example, a 15:1 underdog getting major betting action, we can instantly stop all that," said Sood of Unikrn. "We can notify the tournament provider. The tournament provider can stop the tournament, do an investigation. And then it goes down to the team level. It's a process, but it's all part of the coalition that we set up with the ESIC."
The Esports Integrity Coalition (ESIC) keeps an ear to the ground for reports of suspicious activity and potential match-fixing scandals, keeping open communication channels with Unikrn, Betway, and dozens of other esports betting operators. Ian Smith, ESIC's integrity commissioner, is a lawyer based in the UK with two decades of experience in traditional sports regulation, particularly cricket.
Since its founding in 2016, ESIC has signed memorandums of understanding with the Maltese Gaming Authority and the Nevada Gaming Control Board, which means that those organizations can aid and oversee ESIC in investigating irregularities that arise in the esports betting space. ESIC also agreed to an information-sharing pact with the UK Gambling Commission.
Most licensed betting sites that offer esports contests have consented to share their data and observations with ESIC, although some of the smaller and sketchier sites are not as forthcoming, particularly those that offer bitcoin betting and other similar avenues for illegal gambling. "Getting cooperation from these sites is extremely difficult," Smith told Compete. "We monitor the odds movements on these sites as a matter of course. We watch all the markets as best we can... But the reality is that I don't know who's betting on them, and unless they tell me, I've got no way of finding out."
Scandals have yet to arise with ESIC, perhaps because Ian Smith serves more as an intermediary between pre-existing institutions, rather than a solo superhero tasked with cleaning up esports betting all by himself.
There's already a lot of money changing hands between these esports institutions, though. Many betting sites have put money behind specific esports teams. Since 2016, Betway has served as a major sponsor for the Swedish esports organization Ninjas In Pyjamas, and they've also partnered with ESL, esports' biggest tournament organizer. In 2017, Unikrn invested in a German CS:GO team called BIG, although Sood told Compete that the company isn't involved in the team's strategy, only marketing.
"We got involved as team owners," Sood said, comparing the situation to European soccer clubs "that get either sponsored or have equity owners in the betting business. I mean, we're completely separated from our odds-making to, like, team discussions and things like that. It's just helping them with marketing, helping them tell their story, social media. We do not get involved at all in discussions on team strategy or anything like that."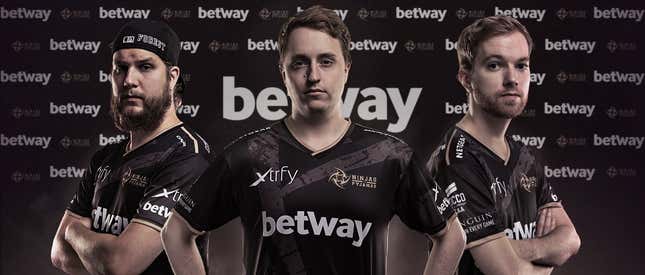 Betting sites serve as frequent sponsors in the Counter-Strike scene, but not so much with League of Legends or Overwatch teams, since Riot Games and Blizzard have strict rules against the practice. Riot's rulebook for North American teams outright disallows gambling sponsors, whereas the European rulebook states that teams can't display betting site logos on their jerseys. The Overwatch League rulebook has never been released, but the rulebook for Overwatch Contenders, which is the minor league, lists gambling sites among the prohibited sponsors.

Rahul Sood believes that Riot and Blizzard's rules against those sponsorships have to do with American attitudes about gambling, as opposed to concerns about conflicts of interest. "At the beginning, some of these companies didn't even want to talk to us, and now they're kind of opening up," Sood said. "Because they know that the audience is maturing. And even though it skews younger, there's tons of people that are over the ages of 18 and 21 in the US that are really into this and want to bet."
If any conflicts of interest did arise between betting sites and esports teams, all roads would lead back to Ian Smith's email inbox for ESIC. "Think of ESIC at the center of a wagon wheel," Smith told Compete. "On the outer rim of the wagon wheel, we have companies that watch the whole market... like Sport Radar, Bet Genius, Ultra Play, Kambi, Abios… watching the broad movement of odds to see if anything weird is going on. That's your rim of the wheel, then the individual spokes are individual betting operators. That could be Betway, William Hill, Ladbrokes, Sky Bet, or individual esports-only specialist sites like GGbet, Fonbet, Unikrn, any number of those. We have that network. And this includes regulators, so UK Gambling Commission, ESSA as a broad monitor, the Isle of Man, the Nevada Gaming Control Board."
In other words, the watchmen all watch each other. "Any one of those parties will send me an e-mail or call me up going, 'There's this match, either an upcoming match or a match that's recently concluded, where we saw X. You know, weird activity,'" Smith went on. "I then email everybody else in the network with broad information, along the lines of, 'One of you is seeing X. What are the rest of you seeing?'"
In esports, this alert system results in a high volume of false positives, which makes sense given the small amount of data available so far. Rahul Sood of Unikrn told Compete that, sometimes, these sorts of alerts can result in Unikrn getting the chance to flex their esports-specialist muscles. "We'll get asked, 'Hey, we noticed some really weird betting on this particular map. Have you guys noticed it? Because we think it's a problem.' And we say, 'Well, there's nothing wrong.' And the reason why there's nothing wrong is because a particular team might be really good at a map. These guys don't know it, because they're traditional betting operators. Many just don't get it."
Many don't get it, sure, but like any other sector of sports gambling, there are sharps. And ESIC's Ian Smith thinks they're a lot more tapped-in than some of the betting sites they frequent. "We've got a very sophisticated number of bettors in esports," said Smith. "They're very bright. They're very sharp. They've very computer savvy. So if the bookmaker opens a market at the wrong level, they pile in. I mean, they really do pile in. And that generates an alert, not because the game is fixed, but because the bookmaker got the opening market wrong."
ESIC's Ian Smith estimates that, with about 10 percent of alerts, there's a problem, and "the only rational explanation is that the match is fixed or that the outcome of that particular bet is fixed, or was fixed, if it's retrospective. And it's at that point that I have to start investigating." ESIC's investigations include looking at "the match action" to see if it appears as though anyone is "under-performing," but it also includes looking into the identity of the bettors who placed their wagers. They'd better not be pro players, coaches, and esports team staffers.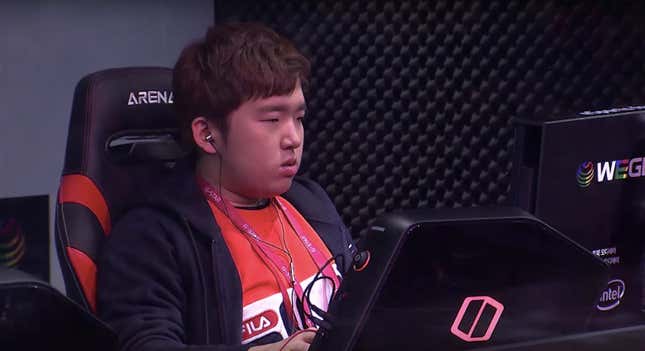 They know who you are, idiots
Esports sites are supposed to keep track of that identifying information so that they can provide it to ESIC in the event of a match-fixing investigation. Betway asks new users for an address and phone number; they don't allow Americans to register unless they have an address abroad, but even then, you'd have to mask your computer's location to place bets in a place where it's illegal. If you're found out, the betting operator can always decline to give you those unlawfully obtained winnings.
Unikrn will allow anyone to create an account on the site and bet with "Unikoins," with real money wagering available to users in jurisdictions where it's legal. Unikrn has developed its own cryptocurrency for their bettors called Unikoin Gold, and in order to purchase those tokens, the background checks get much more intense.
"We had to see their their ID," Sood said of prospective Unikoin Gold buyers. "We had to verify that they're not buying into groups, that it's the individual buying. Then we had to lock their their public wallets, or their public blockchain wallet, to their account so they can't change that. And then we had to create an internal wallet for them on our internal blockchain... Any time you do a transaction with us, their external wallet, we can track the transactions coming onto the internal wallet and we know it's them. It's a multi-step process that involves actual physical ID and making sure that they're in a jurisdiction that's regulated and that they're allowed to bet."
That blockchain trail makes it much harder for bettors to pull off any shady deals, according to Sood. "People people often argue that cryptocurrency means there's a lot of nefarious activity happening on it. But I would argue that fiat [money] has more nefarious activity around the world, and it's even harder to track anti-money laundering." This seems technically correct on volume—there's a lot more currency than cryptocurrency in the world, duh—but unprovable otherwise.
Ian Smith told Compete that ESIC keeps its own database of esports pros and staffers, but also, the coalition has access to a more comprehensive database "through a company that keeps really significant statistical information on players." But Smith declined to name the company. "It's a very very substantial database, and people in the betting world will start using it to create their own markets," he said. "I don't want them to even know that it exists because they'll start bugging the poor guys who own this database."
All of the information in that database is theoretically available to anyone who keeps track of esports matches and team members, but that's no small feat. "There isn't only one company capable of doing this," Smith said. "I mean, there are tons of people who hold bits of this data. But very few who hold all of it. Actually, that's ridiculous, of course nobody holds all of it. But there is a company that holds a pretty substantial chunk of it."
Since Ian Smith serves as an intermediary of sorts for each of these individual esports betting operators, one of the only ways that they can find out about each others' analyses and predictions is through his alert emails. Smith does suspect that some betting operators are using his alert system for their own ends. In other words, one site could see other operators describing a lot of bettors piling in on an unexpected underdog, and that site could preemptively adjust their own odds before anyone took advantage of their crappy prediction.
"There are operators in the shadier end of this who are basically engaged with our system just to adjust their markets," Smith told Compete. "They don't contribute anything. I'm not yet in a position to start throwing these people out because it's all too young, and I've got to allow this time to develop. But I've no doubt some of the members of our network are simply using us as an early warning system to determine what to do with their market."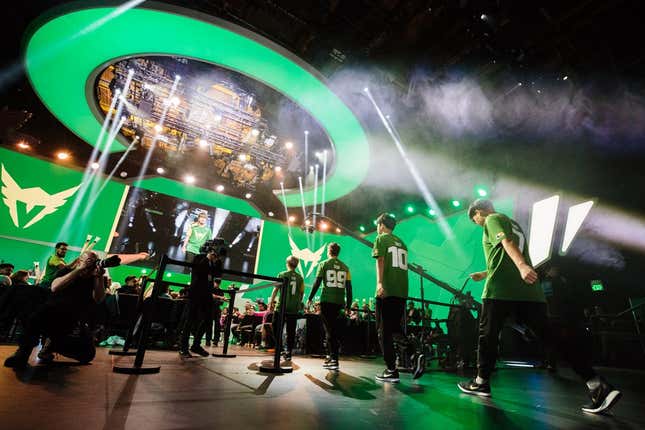 Cutting off corruption at the root
Smith's real concern when it comes to a lack of regulation isn't with these betting operators, though. He's concerned about the seeming lack of awareness on the part of game companies like Riot and Blizzard.
"It's entirely possible that there's quite a number of young men currently in fairly high profile athlete roles who have no idea that gambling occurs on what they're doing, what that means, if they were to be approached what that might look like, and what to do about it if it happens," Smith theorized. "Education within the esport context is enormously important."
Ian Smith offers an education tool through ESIC called the Anti-Corruption Tutorial, designed for pros who compete in the games with the most betting action: CS:GO, Dota 2, League of Legends, and StarCraft.
When Smith announced the tool last November, he said, "ESIC's ambition is to have every esports player participating in matches on which betting markets are offered completing this tutorial." Ultimately, ESIC hoped to "make it mandatory to have done this tutorial before competing in prize money events." Unfortunately, five months after releasing the tutorial, Smith says he has struggled to get cooperation from major esports publishers.
"This is what bugs me so much about what many of these top leagues are doing," he went on. "What Riot are doing with League of Legends, or Blizzard are doing with Overwatch League… their idea of education appears to be to simply sit these guys down, and go: 'You're not allowed to gamble on this. Okay, guys? If you do, we're going to throw you out.' And that's the extent of it."
"Hundreds of millions of dollars is gambled on League of Legends," Smith claimed. "And yet as a company stance, it's like, 'No, we don't allow it, it's not happening.' Like a kid covering his ears and going 'Aaagh!' to keep out the noise of it, which is just not of a tenable approach. It's ridiculous."
Smith's estimate as to how much esports fans wager on League games could be a bit low, according to recent data from by Narus Advisors and Eilers and Krejcik Gaming, excerpted in this report on esports betting. The report estimates that, in 2017, $3 billion changed hands in the esports betting industry. That figure includes money spent in unregulated spaces, like skin-gambling sites, and it could've been even higher if Valve hadn't cracked down on several skin-gambling sites last year. The report also analyzes data from licensed betting sites to determine the most popular esports contests. League of Legends leads the pack, with 38% of total betting volume getting placed on League matches, followed by Counter-Strike: Global Offensive at 29% and Dota 2 at 18%.

Chris Greeley, NA LCS Commissioner at Riot Games, told Compete that "professional LoL esports players participate in classes and summits throughout the year where they receive training and advisement over numerous topics, including how to avoid potentially risky situations like match-fixing, as well as corruption, collusion, poaching, etc. We continue to monitor gambling on LoL via our connections with many premiere gambling institutions in order to address any oddities witnessed in betting behavior that might indicate match-fixing or collusion. We are currently quite satisfied with the level of education and awareness we promote within our playerbase given the magnitude of the potential risk."
Compete also reached out to Blizzard Entertainment and Valve Software about whether they offer education to staffers or pro players about esports betting, but did not hear back before press time. It's a pressing question, says Smith, given the likelihood of "sports betting becoming legal in America, which is a strong possibility in the course of this year with the New Jersey case that's currently running in the Supreme Court." That legalization process could pull esports betting out of the shadows of its seedy, skin-gambling past and spark a shift in how esports scenes view gambling. Game publishers might not be ready for that, but licensed betting operators are counting on it.