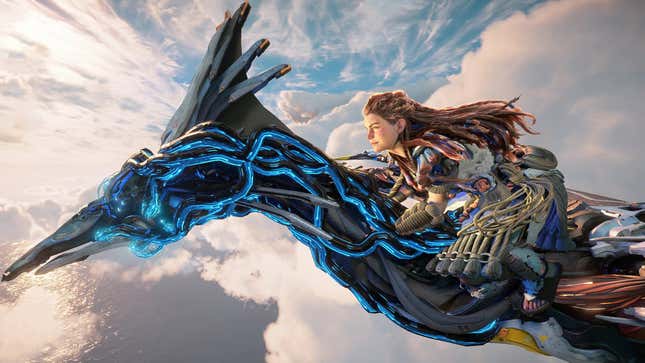 Following the recent review bombing of Horizon Forbidden West's latest story DLC Burning Shores, review aggregator Metacritic has confirmed in a statement to Eurogamer that the site is "evolving [its] processes" to introduce tools that will create stricter moderation for abusive and disrespectful reviews.
Tears Of The Kingdom's Newspaper Questline And The State Of Hyrulean Journalism
Launched on April 19, Burning Shores expands on the events of the main game. In doing so, it introduced a handful of new characters for protagonist Aloy to meet, one of them being the Quen tribe's ambitious marine Seyka.
Spoilers for the Burning Shores DLC are in the next paragraph.

Portrayed by Ninja Assassin's Kylie Liya Page, Seyka has been described as Aloy's equal and is a romanceable character you can share a smooch with. The fact that two queer characters kiss in a fictional game led some homophobes to review bomb the DLC on Metacritic, dragging its user score from a 5.1 rating all the way down to a 3.0 rating. While at the time of writing the user score sits at a 4.0 rating, some 236 "critics" all have an issue with Aloy kissing a girl.

Read More: Homophobes Are Review Bombing Horizon Forbidden West's DLC
Metacritic will introduce stricter moderation tools soon
Metacritic noticed the user reviews and now plans to do something about it.
"Metacritic is aware of the abusive and disrespectful reviews of Horizon Forbidden West Burning Shores and we have a moderation system in place to track violations of our terms of use," a representative of Fandom, which owns Metacritic, told Eurogamer. "Our team reviews each and every report of abuse (including but not limited to racist, sexist, homophobic, insults to other users, etcetera) and if violations occur, the reviews are removed. We are currently evolving our processes and tools to introduce stricter moderation in the coming months."
It's unclear what these stricter moderation tools will be as the Fandom representative didn't explain exactly what's changing on the review aggregator. However, as Eurogamer reports, it appears that several reviews for Burning Shores have already been removed for violating Metacritic's terms of use.
Kotaku reached out to Metacritic for comment.
Read More: Horizon Forbidden West Sequel In The Works Alongside Multiplayer Spin-Off
Regardless of what some homophobes think of Aloy sharing an intimate and vulnerable moment with another human being (that just so happens to be a member of the same sex), the DLC appears to be scoring well with critics. Burning Shores currently holds a score of 82 across both Metacritic and OpenCritic, illustrating that everything's better with some representation.