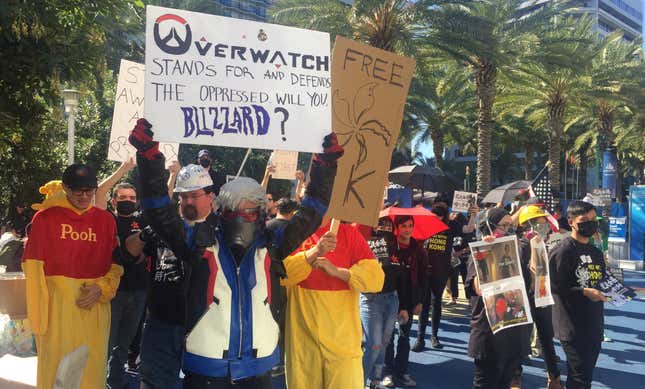 When this year's BlizzCon in Anaheim, California kicked off this morning, a crowd of more than 30 protesters gathered outside the convention center to show support for Hong Kong in the wake of Blizzard's recent suspension of Hearthstone pro Chung "Blitzchung" Ng Wai.
Tears Of The Kingdom's Newspaper Questline And The State Of Hyrulean Journalism
Update, 9:30 PM ET: This story has been updated since its original publication with more quotes and reporting from the protests.
Protesters, some in cosplay, are holding signs and chanting slogans like "People over profit" and "Free Hong Kong."
This particular protest has been facilitated by multiple groups, including Los Angeles-based pro-Hong Kong democracy collective Hong Kong Forum, another pro-Hong Kong group called Freedom Hong Kong, an activist organization called Fight For The Future, and the Protest BlizzCon subreddit, the latter two of whom announced their protest intentions well in advance of the convention.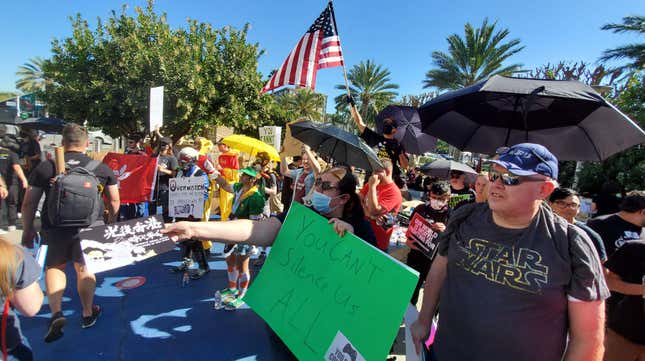 The protest continued into the afternoon, featuring speeches from guests like two of the American University Hearthstone players who held up a "free Hong Kong" sign during a Blizzard-hosted broadcast and ultimately received a punishment similar to Blitzchung's.
"Everything that relates to the development of democracy in Hong Kong, we care about," Hong Kong Forum's Charles Lam told Kotaku. "Here, in this case, it's related to everything that has happened with the Hong Kong protests in recent months. We see that a lot of the people have been silenced because of bullying from China. This is no different. A gamer getting censored because of their support for democracy—this is an unacceptable practice in America."
Fight For The Future's Dayton Young views this as part of a sustained effort to keep Blizzard and many other powerful tech companies accountable and communicative, rather than closed-off and controlling.
"People need to continue voicing their concerns, contacting customer service, tweeting at Blizzard, tweeting at BlizzCon sponsors," Young told Kotaku. "Every voice matters. We are very lucky that we have the right to speak up and protest and express ourselves. That what we're trying to protect here. Just keep doing it until Blizzard and many other companies listen. This isn't just a Blizzard issue. It's all game companies and digital media companies. We need these companies to listen to us and engage in conversations with us to make sure that we know that we're being kept safe and free on their platforms."
The protest first kicked off at around the same time Blizzard hosted its BlizzCon opening ceremony earlier today. This year, the company didn't just announce new games; it also apologized for its handling of Blitzchung's punishment, which initially took the form of a year-long suspension and a withholding of prize money, but was later walked back to a six-month suspension.
"We moved too quickly in our decision-making and then, to make matters worse, we were too slow to talk with all of you," said Blizzard president J. Allen Brack. "We didn't live up to the high standards that we really set for ourselves."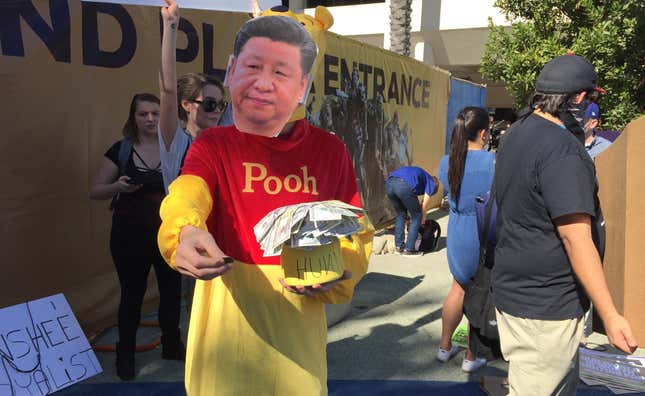 However, Blitzchung is still suspended, and Blizzard continues to forbid political speech during official broadcasts. For protesters, today's apology was a clear case of "too little, too late."
"I don't really give a shit what they say at this point," said a protester named Doug, sporting a full Winnie the Pooh suit with a handmade mask of Chinese president Xi Jinping, who is often derisively compared to the orange cartoon bear. "Their initial reaction speaks true to their corporate heart. They're not apologizing because it's the right thing to do. They're apologizing because now they think this is better for their bottom line. That's all it really comes down to."
"There's only one thing they need to do, which in theory should be simple," said a protester who goes by the handle "YX," who is originally from China. "They just need to unequivocally say they support democracy and basic human rights everywhere in the world. Period. Full stop... The fact that they've released several statements trying to weasel out of saying that is very problematic. That's why we're still protesting. A lot of people have come up to us, and they're like 'When will it be enough for you?' Well, it's enough when you support democracy and human rights everywhere in the world."
Blizzard has made some concessions. In addition to today's apology, the company is allowing employees to speak openly about Hong Kong at this year's BlizzCon. A Blizzard rep went so far as to say that he thinks Blizzard employees could theoretically join the protests, if they wanted. While there, I saw a few people in "Blizzard crew" shirts bring snacks and Gatorade to protesters who were, by that point, baking in the still-red-hot "fall" California sun.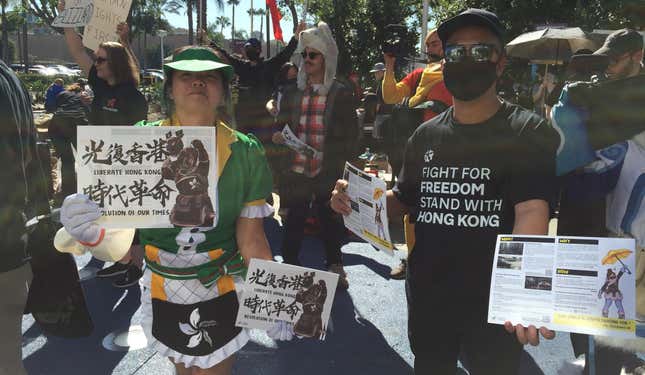 Protesters were not entirely uniform in their motivations, though. While everyone was united by their support of Hong Kong, some were also there to air a laundry list of only partially-related grievances against Blizzard.
"[It's] the games, too," said a protester named James Incremona. "They announced Diablo Immortal. I don't play mobile games. What are they thinking? And Hearthstone, when they changed the cards to remove the sex appeal and the blood, only because China. They said it was for us. That's what I hate: They keep saying this is for the fans. This is what they want. But it's not. It's what their investors want."
Incremona said he hadn't really followed the protests in Hong Kong until he caught wind of the Blitzchung controversy, a story multiple other protestors repeated. This particular issue has mobilized an audience who otherwise might not be inclined to pay attention to political issues in China and Hong Kong, no matter how grave the human rights abuses involved. But in doing so, it's also attracted some people who seem to be in it more for xenophobic jokes and memes than actual pro-Hong-Kong sentiment. Some protesters view this as a particularly prickly double-edged sword.
"I was so happy to hear that this was going on," said a protester named Kimberly, who said she's part-Chinese, part-Vietnamese and finds herself conflicted about the Chinese government's increasing influence on America's economy. "Shit, who cares about Hong Kong in the US? Not many people. This brought the issue to life."
However, she also voiced misgivings with memes she'd seen online, as well as a proliferation of Winnie the Pooh costumes at the protest. "I've seen so many memes, like 'Haha, this is funny,' or 'Haha, I don't care,'" she said. "It doesn't invoke care. I think it invokes laughter and ridicule... Instead of saying 'Hey dudes, did you know people are dying, being beaten to near-death, and disappearing? Do you know about the Uighur [Muslims]? Everything that's going on in China—do you know?'"
A decidedly hateful crowd has also joined gaming's pro-Hong-Kong movement, and that, too, has given people attending today's protest pause.
"We did get a lot of people who came over from Gamergate and who were totally surprised that we don't allow you to just, like, bash transgender people within our Discord," said YX, who helps run Fight For The Future's Discord server. "We just ban you right away. They were also super surprised that many of us are leftists. They were fully expecting the Gamergate environment, and they didn't get that... You can't avoid that. What you can do is promote positivity within the spheres you control."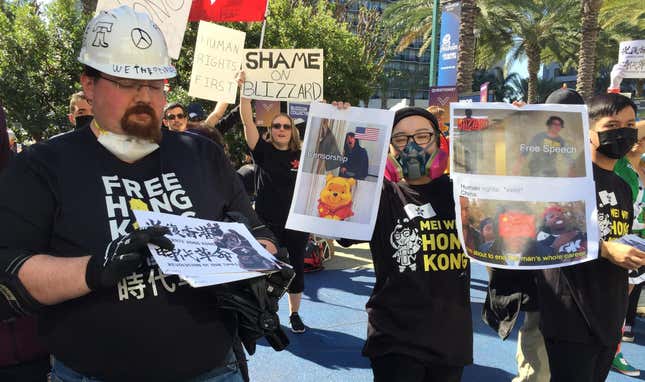 The protest's turnout was undeniably strong, growing to around 40 or 50 by the time I left, with countless attendees passing through and raising fists or cheering supportively throughout the afternoon. However, Blizzard seems to have made up its mind about Blitzchung's suspension and its broader stance on what people can and cannot talk about during broadcasts. Multiple protesters I spoke to wearily admitted that they don't expect their actions to crack open Blizzard's iron shell of corporate certainty. So, in addition, they've stopped spending money on Blizzard games and merchandise and deleted their accounts in an attempt to send a message of a more monetary nature.
"I might be here, but I'm not buying their stuff," said Kimberly. "I'm not buying any Blizzard merchandise. I'm not supporting them."
"I have a 20-year-old Blizzard account that I deleted," said YX. "It had all the games. I was a StarCraft 1 player, so I've been with Blizzard for a really long time. But you've gotta do what you've gotta do. Sometimes principle is more important than the games you enjoy."