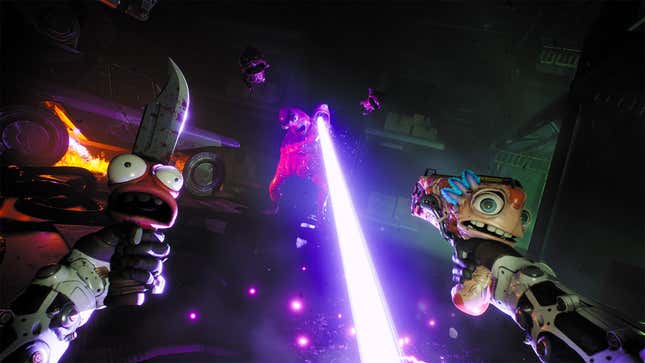 On Tuesday, during Xbox's extended showcase event, the first trailer for High on Knife—a new DLC for comedy shooter High on Life—was shown. However, Kenny, a gun voiced by former Squanch Games CEO and Rick and Morty co-creator Justin Roiland, is absent. Roiland resigned from the company in January 2023, shortly after domestic abuse allegations became public. The lawsuit against Roiland was dropped in March 2023.
Grand Theft Auto 6 Comments: A Dramatic Reading
According to a press release from Squanch Games, High On Knife will introduce a brand-new talking gun, Harper, who is voiced by Sarah Sherman of SNL. The trailer also shows off another new gun character, B.A.L.L, voiced by Alec Robbins. Nowhere in the press release for this new DLC did Squanch mention Kenny or Roiland.
The new DLC, which doesn't currently have a release date, will apparently be a "bit spookier" than the main game, though Squanch Games was clear that it will still be a comedy.
"This trailer shows off a portion of the DLC where we're dropping players into a darker, scarier setting ruled over by a mysterious, goopy new boss named Mux," says Mikey Spano, Squanch Games' chief creative officer.
"This is just a small slice of the DLC - there's a ton more weird, funny, and surprising stuff we packed in that we think you'll love so make sure to stay tuned," added Spano in a press release.

However, what will likely not be in High on Life's new DLC is Justin Roiland's gun character, Kenny, who is the first talking weapon you meet in the main game and who acts almost like the game's main character. His absence here is likely due to the fact that Roiland has parted ways with Squanch Games following troubling allegations.
Why Justin Roiland left Squanch Games in January
In January, Rick and Morty co-creator Justin Roiland was charged with domestic violence against his ex-girlfriend. After the lawsuit against him became public, Roiland left the studio that created High on Life while Adult Swim dropped him from the hit series Rick and Morty.

According to NBC News, the complaint filed by Roiland's ex claimed that the domestic violence incident occurred around January 19, 2020. The complaint charged Roiland with "one felony count of domestic battery with corporal injury and one felony count of false imprisonment by menace, violence, fraud and/or deceit." Roiland was arrested and released with a $50,000 bond in August 2020 and pleaded not guilty to both charges in October. A protective order was filed later that month that made Roiland relinquish any firearms he owned or possessed.

In March, Roiland tweeted that the case had been "dismissed" and that the allegations against him were false. According to a tweet from Roiland, the suit was based on "the word of an embittered ex trying to bypass due process and get me canceled."A spokesperson for the Orange County District Attorney's office told Kotaku the case was dropped due to a "lack of sufficient evidence to prove the case beyond reasonable doubt as a result of additional information that came to light in the investigation."
Kotaku has reached out to Squanch Games about Roiland's Kenny and his absence in the game's first DLC trailer.