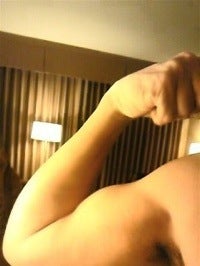 Back when we interviewed Hideo Kojima at this year's Tokyo Game Show, Jin from Japanese blog My Game News Flash kept asking about Kojima's muscles.
Here's why. The game designer has been pumping iron.
But Kojima blogs that because of the Tokyo Game Show, he wasn't able to hit the gym that much. He gained 2 kilograms and lost muscle mass.
Still, check out those guns! Hideo Kojima will mess you up, yo. Baaaaaaaaaad.
二週間ぶり|コナミ小島プロダクション公式ウェブログ [コジブロ]