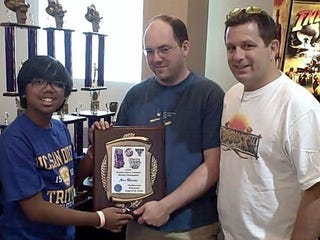 I spent most of my time at California Extreme reminding myself why I never beat Dragon's Lair, but other people were busy winning tournaments and stuff at the massive arcade and pinball show.
Keith Elwin, number one pinball player in the world, walked away from the modern and solid state tournaments with a couple of trophies and $1,290 in prizes. Local player Neil Inn scored the top spot in the electromechanical tournament (conducted with games from the 60s and 70s), winning $550. Finally, 14-year-old Los Angeles teenager Alec Castillo ranked highest in the Guitar Hero Arcade tournament, winning the Wii and Guitar Hero World Tour package plus four other Guitar Hero games.
"Overall, the tournaments at California Extreme gave away over $7,500 in cash and prizes, even more than we had hoped," says tournament organizer Bowen Kerins. "It was our largest show ever, both in terms of attendance and number of games on the floor, and we can't wait for the next one."
Weirdly enough, I hear that Castillo appears for a few seconds in the Video Games episode of Penn & Teller: Bullshit! that aired earlier this month.