The Wii U launches in North America on the 18th of November, 2012. Here are the 23 games that are launching with the system, as well as those coming before March 2013.
It's a rather large launch window Nintendo has defined for the Wii U launch, giving publishers four months to make it onto this rather expansive list. 23 of these games will be waiting for early purchasers when the system drops in November, with several of the games listed with unspecified November dates, meaning games like Madden NFL 13 and Cloudberry won't keep players waiting for too long.
Releasing on November 18th:
Activision Publishing, Inc.
Call of Duty: Black Ops II
Skylanders Giants
TRANSFORMERS PRIME
Wipeout 3
Disney Interactive
Disney Epic Mickey 2: The Power of Two
Electronic Arts
EA SPORTS FIFA Soccer 13
NAMCO BANDAI Games America Inc.
TEKKEN TAG TOURNAMENT 2 Wii U Edition
Nintendo
New Super Mario Bros. U
NINJA GAIDEN 3: Razor's Edge
Nintendo Land
SiNG PARTY
G/O Media may get a commission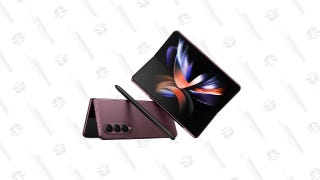 Save Up to $300
Galaxy Z Fold4
SEGA
Sonic & All-Stars Racing Transformed
Tecmo Koei America Corporation
WARRIORS OROCHI 3 Hyper
THQ
Darksiders II
Ubisoft
Assassin's Creed III
ESPN Sports Connection
Just Dance 4
Rabbids Land
Your Shape: Fitness Evolved 2013
ZombiU
Warner Bros. Interactive Entertainment
Scribblenauts Unlimited
Game Party Champions
Batman: Arkham City Armored Edition
Releasing in November (Presumably after the 18th):
Broken Rules
Chasing Aurora - November
Pwnee Studios
Cloudberry Kingdom - November
Electronic Arts
Madden NFL 13 - November
Frozenbyte
Trine 2: Director's Cut - November
Shin'en
Nano Assault Neo - November
Tomorrow Corporation
Little Inferno - November
Two Tribes
Toki Tori 2 - November
WayForward
Mighty Switch Force HD - November
Releasing in January:
Gaijin Games
Runner2: Future Legend of Rhythm Alien - January
Releasing During the Launch Window (Nov 18, 2012-March 31, 2013):
505 Games
Funky Barn
2K Sports
NBA 2K13
Activision Publishing, Inc.
007 Legends
Cabela's Dangerous Hunts 2013
Rapala Pro Bass Fishing
D3Publisher
Rise of the Guardians: The Video Game
Ben 10 Omniverse
Family Party: 30 Great Games Obstacle Arcade
Electronic Arts
Mass Effect 3
Nintendo
LEGO City: Undercover
Pikmin 3
Wii Fit U
The Wonderful 101
SEGA
Aliens: Colonial Marines
THQ
JEOPARDY!
Wheel of Fortune
Ubisoft
Marvel Avengers: Battle for Earth
Rayman Legends
So, what do you folks think? Will there be anough to keep you busy on launch day?