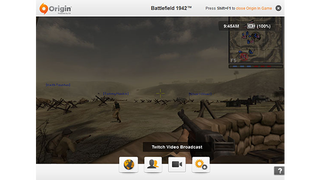 Poor Origin. Powered by EA, the company everyone loves to hate, and going up against Steam, the service everyone loves to love, it's had a rough start to life. But EA has, ever so slowly, been improving the service, and the biggest improvement of all is rolling out with the next update.
The publisher has teamed up with Twitch to integrate livestreaming within Origin games. It's activated and controlled from within Origin's in-game menu system, which should (in theory) make it a cinch to use. You even get a small indicator showing you if you're streaming or not (a handy thing to know) and how many people are watching.
Sure, it won't be for everyone, but that's a pretty neat feature, especially if you're a Battlefield 3 player.
The update's live in "the coming days".