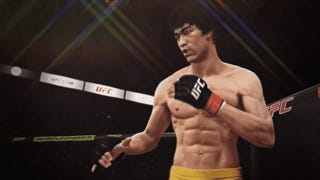 EA announced that Bruce Lee will be a playable character in UFC. See the announcement video and learn how to unlock him below:
Bruce Lee will be unlockable by completing career mode or instantly available as a reward for preordering the game. EA promises:
This does not just look like Bruce Lee. It is Bruce Lee. The way he carries himself, his fighting stance, his rippling physique, devastating speed, signature strikes and accompanying yells, whoops and shrieks.
You are now looking at Screenburn, a Kotaku blog dedicated to the best gaming images, videos and GIFs online.