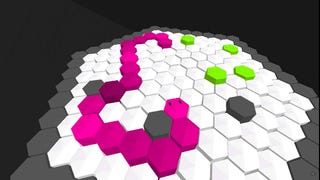 If you ever owned an old black and white Nokia phone, you probably sunk tons of hours into the game Snake. I did, which is why this hexagonal reimagining of the game by programmer Alex J Mundiñano is so engaging.
You can play Hex Snake here. Once you get some momentum going, it's hard to stop. Let's see who can get the best score in the comments.
(Update: Annnnnnd I think we overloaded the site. Sorry about that.)
Hex Snake via prostheticknowledge
To contact the author of this post, write to chrisperson@kotaku.com or find him on Twitter at @papapishu.