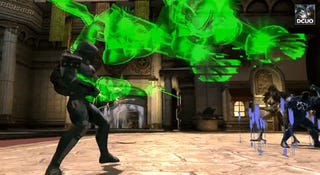 Wonder Woman musters an army in the new trailer for DC Universe Online: Amazon Fury:
Gotham City is under siege and the Amazonian civil war has begun. Amazon Fury Part I is already available to members, and non-members will be able to purchase the DLC Pack beginning today. The DLC Pack is available now on US PC and EU PC, and will be available on PlayStation when the PSN updates today (US) or tomorrow (EU).

Take up the defense of Gotham City and join the fighting in the Amazonian civil war. Play as Wonder Woman or as Circe in two new Iconic Visions, and see how events unfolded leading up to war. Then gather your allies and visit the new Gotham Under Siege war zone, and take the fight to Themyscira itself with two new duos and one new alert. Earn the new Marks of Fury and unlock of new gear, styles, and feats.

War is waiting. Are you prepared?
You are now looking at Screenburn, a Kotaku blog dedicated to the best gaming images, videos and GIFs online.