The Black Widow leads off this selection of the best-looking comics you'll be able to buy from Marvel in August 2014:
BLACK WIDOW #9 Nathan Edmondson (W) Phil Noto (A/C) "FRIEND FROM FOE." • In the pursuit of XAOC, Black Widow finds THE PUNISHER! • And they are trapped on an abandoned oil tanker rigged to explode with CROSSBONES and his SKULL SQUAD! • Don't miss the other side of this action-packed crossover event in THE PUNISHER #9! 32 PGS./Rated T+ ...$3.99
GUARDIANS OF THE GALAXY #18 Brian Michael Bendis (W) • Ed McGuinness (A/C) 75th Anniversary Variant by ALEX ROSS 75th Anniversary Sketch Variant by ALEX ROSS Original Sin Tie-In! • You know you want to know how Star-Lord got back from the Cancerverse. • And didn't Nova go in there with him? Guess he's not into the whole "no man left behind" thing. 32 PGS./Rated T ...$3.99
G/O Media may get a commission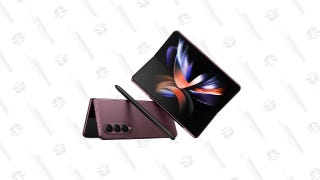 Save Up to $300
Galaxy Z Fold4
UNCANNY X-MEN #25 Brian Michael Bendis (W) • Chris Bachalo (A/C) AGENTS OF S.H.I.E.L.D. VARIANT BY PHANTOM CITY CREATIVE ORIGINAL SIN tie-in! • Xavier's greatest secret has been revealed! • Against such overwhelming power, will the X-Men succeed in holding the line? • Or will Xavier's final "gift" to his children be their undoing. 32 PGS./Rated T+ ...$3.99
UNCANNY AVENGERS #23 RICK REMENDER (W) • SANFORD GREENE (A) Cover by AGUSTIN ALESSIO AGENTS OF S.H.I.E.L.D. VARIANT BY EMMA RIOS • Uncanny Avengers reunited! • The threat of Kang is over, but what are the repercussions? • Meet the new faces of the Marvel Universe! 32 PGS./Rated T ...$3.99
ALL-NEW GHOST RIDER #6 FELIPE SMITH (W) • DAMION SCOTT (A) Cover by TRADD MOORE "LEGEND" • GHOST RIDER has become a local hero • Can ROBBIE REYES resist the call of street racing? • Who is the mysterious figure who takes an interest in the new Ghost Rider? 32 PGS./Rated T+ ...$3.99
SHE-HULK #7 Charles Soule (W) • Javier Pulido (A) COVER BY Kevin P. Wada • The return of superstar artist JAVIER PULIDO! • Guest-starring Hank Pym! • She-Hulk, Hellcat and Giant-Man team up to save one of Jen's officemates...but what else does Hank Pym have at stake, and what isn't he telling them? 32 PGS./Rated T+ ...$2.99
MS. MARVEL #7 G. Willow Wilson (W) • Jacob Wyatt (A) Cover by JAMIE MCKELVIE IT'S WOLVERINE! • Kamala may be fan-girling out when her favorite (okay maybe Top Five) super hero shows up for some help, but that won't stop her from protecting her hometown. • Who is the Inventor, and what does he want with Kamala and all her friends? Maybe Wolvie can be of some help. • "If you're not reading Ms. Marvel, you're missing out on one of the best series out there." —Says Almost Everybody 32 PGS./Rated T+ ...$2.99
FIGMENT #3 (OF 5) JIM ZUB (W) • FILIPE ANDRADE (A) Cover by JOHN TYLER CHRISTOPHER REVEALING THE ORIGINS OF ONE OF DISNEY'S MOST IMAGINATIVE CHARACTERS! • An all-new steampunk fantasy story exploring the never-before-revealed first adventure of the inventor known as Dreamfinder and his famous dragon Figment! • Our daring duo explores the realms of imagination, finding friends and foes alike...while back on Earth, a clockwork army assembles under the command of the frightening force known only as The Singular! • Acclaimed creators Jim Zub (Skullkickers) and Filipe Andrade (CAPTAIN MARVEL) give a Marvel spin to the mind-expanding attraction Journey Into Imagination! 32 PGS./All Ages ...$3.99 Elements based on Figment © Disney
Via CBR.
You are now looking at Screenburn, a Kotaku blog dedicated to the best gaming images, videos and GIFs online.