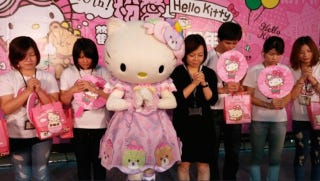 The scion of all things pink and cute, Hello Kitty is celebrating its 40th anniversary this year. In Taiwan, where they love all things Hello Kitty, a celebration for the silent cat's birthday turned into a more somber affair.
Last week, multiple explosions from a gas leak killed at least 26 people and injured 267 in Kaohsiung, south Taiwan. The explosions were said to have taken place in a populated industrial area filled with residential complexes and shops.
Taiwanese media reports that last weekend, there was going to be a Hello Kitty celebration at Taiwan Tao Yuan international airport. Due to the timing, the event was changed last minute from a celebration to a mass prayer.
A costumed worker dressed as Hello Kitty led a group of 50 at risk children in a quick prayer for all the victims of the deadly explosion. The children were originally part of the celebration: they were supposed to be given a tour of the airport along with Hello Kitty.
The whole event was originally set up by the Ever Rich Duty Free Shop. They had asked Hello Kitty to come to Taiwan, and invited the children to spend the day with Hello Kitty. Ever Rich is said to have donated over $300,000 to the Kaohsiung relief effort.
現身桃機 為高雄祈福 [FTV Taiwan]
Top Photo: LTN Taiwan
Kotaku East is your slice of Asian Internet culture, bringing you the latest talking points from Japan, Korea, China and beyond. Tune in every morning from 4am to 8am.
Eric is a Beijing based writer and all around FAT man. You can contact him @ FatAsianTechie@gmail.com or follow him on Twitter @FatAsianTechie