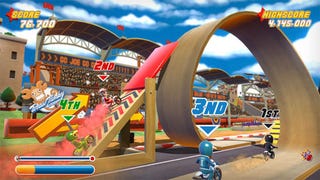 Say hi to Hello Games, creators of the self-announced Joe Danger, a promising looking "stunt-em-up" that looks to give fans of Excitebike style action and blue skies something to get excited about next Spring.
Hello Games—recently formed by folks formerly of studios such as Kuju, Climax, Criterion, EA and elsewhere—also name-checks LittleBigPlanet in its game announcement, even though Excitebike had a level editor too, a feature that the side-scrolling stunt racer Joe Danger will offer gamers. I suppose since that Joe Danger's is in-game, the LBP comparison is apt.
Whatever downloadable platform the game is coming to hasn't yet been announced, but we'll be keeping an eye on Joe. For now, you'll have to attempt to satisfy your curiosity at the game's official site.
Joe Danger [Official Site]