Think you've got what it takes to qualify for the Hearthstone Spring Championships? Okay, but can you do it in a Buffalo Wild Wings? If you're looking to compete in this year's Hearthstone Spring Playoffs, you might have to throw down in a loud room that smells like honey barbecue sauce.
Blizzard Entertainment announced this week that this year's Hearthstone Spring Playoffs—which will determine who qualifies for the $250,000 Hearthstone Spring Championship in Shanghai—will take place on May 27 and 28 in 10 venues across the United States. Five of those venues are Buffalo Wild Wings locations.
Blizzard has approved BWW as a venue in the past for Hearthstone's Winter Tavern Hero qualifiers, and some players say the setting was a huge distraction. In one participant's account, the shoddy internet led to multiple disconnections, and the wait staff who came to the table actually interrupted the flow of the game.
Let's be clear: as a digital collectible card game, Hearthstone is not a good game to play at a Buffalo Wild Wings, especially when there's money on the line. For one, B-Dubs is a sports bar, which means that while you sit there trying to figure out whether you have lethal on the Quest Rogue sitting across from you, you'll also be forced to listen to The Chainsmokers on repeat while surrounded by drunk basketball fans yelling at the ref for a bullshit charging call.

G/O Media may get a commission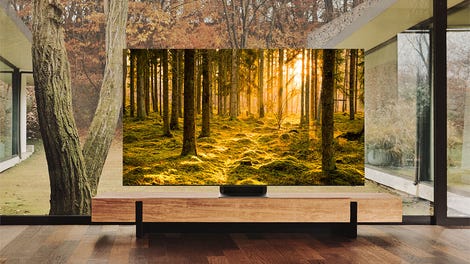 Up to 40% off
Samsung Smart TVs
The professional Hearthstone player base seems to hold a similar suspicion toward the BWW decision, as evidenced by this succinct Tweet from pro player Anthony "Ant" Trevino:
When I reached out to Blizzard for the rationale behind selecting so many Buffalo Wild Wings locations for this tournament, they responded with the following statement:
When considering Playoff venues for the Hearthstone Championship Tour, one of our goals is to encourage diversity in geographic location to provide more convenient venue options for our HCT competitors. We're always looking at ways to reach new locales while still supporting previous locations where it makes sense. Working with Buffalo Wild Wings this season has allowed us to bring the Spring Playoffs to new locations including Denver, Colorado and Marietta, Georgia. The participating Buffalo Wild Wings locations have been vetted to the same standards as each of our other existing Playoff venues. This vetting process includes a review of the physical space and internet stability, among other factors. We've paired some of our most experienced Innkeepers with new venues to ensure smooth execution. Each Playoff Venue, including Buffalo Wild Wings, will also feature two dedicated tournament admins.
This is a good sign for players who were worried about bad connections and inadequate seating, which are really the two most important factors when it comes to something like this. Beyond that, though, it might not address all the concerns of playing inside a packed sports bar. When I reached out to the manager of one of this year's host venues, the Buffalo Wild Wings in Lake Forest, California, she confirmed to me that the restaurant would remain open to the public during the Playoffs (which, coincidentally, are happening at the same time as both the NHL and NBA Playoffs).
When it comes to determining what constitutes an appropriate venue for an esports event, the truth is that most esports still don't really know what they're doing. Yeah, League of Legends' World Championships happened at the Staples Center a few years ago, but the corporate event planning teams at organizations like Riot Games are the exception, not the rule. Just last year, a Chinese esports organization got the bright idea to hold a Dota 2 tournament on a cruise ship, which seems like one of the absolute worst venues possible when you consider things like seasickness, scurvy, and the possibility of becoming stranded Carnival Triumph-style.
Beyond that, some players are understandably riled up about more than just the type of venue. If you're one of the 64 regional top-level Hearthstone players who qualified for the tournament and you live in the northeast United States, you've got to travel down to Fairfax, Virginia, just outside of DC, if you want to play in the tournament. And since the tournament is in just a couple weeks' time, there's not a lot of wiggle room for trip planning.
For most West Coasters, the situation isn't as dire, but it's still kind of a bummer. In Southern California, the Winter Playoffs took place at a pretty handy esports venue called The Esports Arena In Santa Ana. For the Spring Playoffs, that venue, along with many others, has been scrapped and replaced with various B-dubs restaurants.
While Blizzard's BWW arrangement is probably best in that it allows them to set up more venues for more players, I'm curious to see how long they'll hold onto sports bars as a viable competitive venue. In an ideal world, we could all play high-stakes Hearthstone in the middle of a crowded bar where spectators would gather 'round to watch us and murmur quietly to one another. But I'm not sure that such a place actually exists, and if it does, it's certainly not Buffalo Wild Wings. Yes, Hearthstone matches are supposed to take place in fantasy taverns, and the sports bar is probably the best real-world equivalent in 21st-century America. But the point is: you don't hold tournaments in the places they might take place if your in-game lore had magically come to life, you hold them in the places that'll best accommodate for the players and their needs.
Still, if you ever catch word of someone holding a Street Fighter tourney in a boatyard, a night market, or a military runway, let me know; I can assure you that I'll be the first one there.
Joshua Calixto (@hitherejosh) writes about esports, culture, and technology.