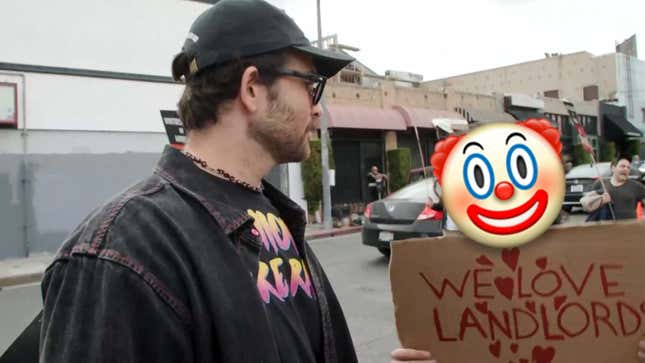 Matan Even, the trolly kid who stealthed his way onto The Game Awards stage last December to shout out former U.S. president Bill Clinton, is back. This time, though, he crashed socialist Twitch streamer Hasan "Hasanabi" Piker's May 4 livestream at the WGA writers' strike picket line in Hollywood, California. Why? Well, the man stans landlords, apparently. Yuck.
Diablo IV Druids, Do This ASAP To Unlock Some Powerful New Abilities
Read More: Kid Sneaks Onto Game Awards To Nominate Bill Clinton, Detained By Police [Update]
If you recognize Even, it's because he's trying so very hard to be recognized. At 2022's Game Awards Show, just as developer FromSoftware went to collect the Game of the Year trophy for Elden Ring (well deserved!), a random kid, clad in an ill-fitting black sports coat and a pair of Yeezys, stood behind director Hidetaka Miyazaki and other staffers. No one knew how he got there (spoiler warning: he literally just walked up with them), but many had questions. Anyway, after Miyazaki gave his acceptance speech and the FromSoft staff got ready to dip, Even commandeered the mic to weirdly acknowledge Bill Clinton.
"I want to thank everybody," Even said. "I think I want to nominate this award to my reformed Orthodox Rabbi Bill Clinton. Thank you, everybody."
Talk about a max stealth stat. The teenage clout-chaser has a history of these stunts, going viral for crashing events from a BlizzCon panel to an L.A. Clippers game and beyond. He recently trolled Kai Cenat, showing up to harass the new King of Twitch this past February. Now, Even has done it again, crashing Hasanabi's May 4 livestream with YouTube comedian Adam Conover while at a picket line for the ongoing writers' strike in LA.
Hasan loves unions, Matan loves landlords
Piker, one of Twitch's most prominent streamers and quite possibly the biggest political commentator on the platform, hosted an IRL livestream, meaning he was actually out and about instead of just talking to his camera in his million-dollar West Hollywood home (which people love to hate him for buying). The famed streamer wanted to show his solidarity with striking film and television writers by buying pizza and walking the picket line with them. They're currently fighting for better financial payouts, fairer working conditions, and much more. After about three and a half hours of picketing, walking through Hollywood with Conover, chatting with fans and viewers, and drinking water, Even suddenly popped up like an unfortunate weed.
"What's going on? How you guys doing? We love landlords," Even said, holding a cardboard sign that read "We love landlords." "We're all against unions. We're here to protest [for the landlords] and against the unions. We love them."
A few more of what I can only assume are Even's friends then appeared on screen, holding up similarly designed cardboard signs, repping landlords hard.
"We love landlords," Even said. "We love them a lot. We're all against unions, they're not fair to the corporate companies. This is a crazy problem."
Piker tried to brush Even aside to chat with other organizers about what was next. However, Even and his crew were still there, chanting in support of landlords. He then accused Piker of "running away" because he didn't want to show their signs, promising to be there for "the rest of the night to protest." The two then clashed on Twitter, with Piker saying he politely asked Even to step aside so that he could continue his business: livestreaming a picket line. This was after Even attempted to link up with Piker for a "collab."
Matan gives a statement—sort of
Even agreed via Twitter DM to speak with Kotaku on the phone, though he had a legal counsel present throughout the call who advised him to not answer questions about the vibe at the LA picket line, his stance on landlords, or his interaction with Piker, and appeared to be speaking to Kotaku via three-way-call with his counsel based on the quality of his audio.
At one point, Even seemed to suggest the strike wasn't as important as other global issues, saying "From a logical perspective, there's so many problematic world catastrophe things going on year-round [unintelligible]. People are not paying enough attention to these problems. You know they're going out to the store, buying energy drinks, they're going to their home and turning the AC, but they're not even thinking about how that's going to affect all the animals in the ocean…" When asked if he was referring to climate change, Even denied it.
Read More: Game Awards Photoshops Bill Clinton Kid Out Of Elden Ring Speech

Kotaku reached out to Piker for comment.
If you follow Even on TikTok, this is his bread and butter: He shows up at the most random of times to harass the most random of people for clout. It's disappointing to see someone trying to sabotage an organized fight against exploited labor instead of using their huge following to spread awareness. We shouldn't be too surprised, though. This is troll shit.
If you'd like to support the striking writers, you can hit up the main WGA website to learn about how you can get involved. There's also a schedule with several locations if you want to join the writers on the picket line. Or, if you can't physically show up, you can make a monetary donation that will be distributed amongst those striking. And while you're at it, you should check out some of the best signs on the picket line. They're pretty funny.
Update 5/5/2023 3:00 p.m. ET: This story was updated to include a comment from Matan Even.