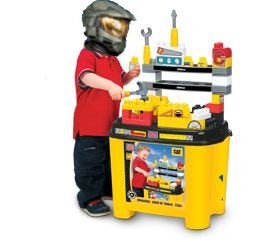 Mega Bloks, best known for their over-sized, LEGO-like building toys for ham-fisted infants, is releasing Halo Wars-themed toys this summer.
The deal cut between Twentieth Century Fox Licensing and Merchandising, which handles licensing for the teen-rated game, and MEGA Brands will see the toy maker developing construction toy sets based on the key characters and vehicles of Halo Wars under the Mega Bloks name.
The blocks are due out this summer.
"We're excited to have this exclusive opportunity to partner with Microsoft and 20th Century Fox Licensing & Merchandising and build on the immense success of the Halo franchise," said Vic Bertrand, Chief Innovation Officer of MEGA Brands. "We look forward to bringing the iconic characters and vehicles of the video game to life through Mega Bloks."
"We consider MEGA brands to be one of the premiere leaders in the constructible toys and games category. Their reputation for creativity and innovation is inspiring and we look forward to seeing it applied to the legendary Halo franchise," noted Michael Peikoff, Senior-Vice President U.S. Licensing, Twentieth Century Fox Licensing and Merchandising.
Not the absence of Microsoft, Ensemble or Bungie quotes.
What's next Grand Theft Auto Tonka Toys?