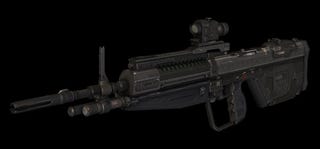 Halo creators Bungie love guns. Love big, bulky space vehicles,too. Love 'em so much they've released a ton of renders showing how both will appear in the upcoming Halo: Reach.
Alongside those mechanical moneyshots we've also included some older shots of the game's cast of Spartans, Covenant and cannon fodder Marines.
Halo Reach's beta kicks off early next month, with the game itself due out in the Fall.
Click on the pics below to take you to the full gallery.