Two weeks before Christmas, a Georgia woman lost her home and nearly everything she owned in a fire. When she went back to survey the damage, one of the few things she recovered was a collector's edition copy of Nightfall, an expansion for Guild Wars, her favorite video game. After she posted her find on Twitter, the game's developers sent her a generous gift.

On the morning of December 13th, Siadina, whose real name is Laura Hunsucker, went to work like any other day. Shortly after she got there, a fire started in her house. While Siadina works only five blocks away from home, by the time she got back to her house, there was nothing she could do. A faulty dryer had caught fire and it spread rapidly throughout the house. There had been about a five minute window where her father had been able to enter the house to try to retrieve her pets. While Siadina's cats survived, unfortunately her dogs Ginger and Rosie would not. In a matter of minutes she lost nearly everything in her home of 21 years. [Correction - 9:32, 1/23/17: A previous version of this article incorrectly stated Hunsucker's first name.]
The firefighters told Siadina and her family that she could return after a week or two to see what they could salvage. In the meantime, they set up a crowdfunding campaign to try to raise money to move into a new home. She returned to the house to film a Facebook Live, to show the people who were donating what they were helping her with. She said that as soon as she finished her video, she found her collector's edition of Nightfall. Other than a little water damage, it was intact.
She snapped a quick video, and then posted it to Twitter and tagged ArenaNet at her friend's insistence. Shortly afterward, she said she got a direct message from the development studio's social media coordinator, asking for her address to send her a t-shirt.

G/O Media may get a commission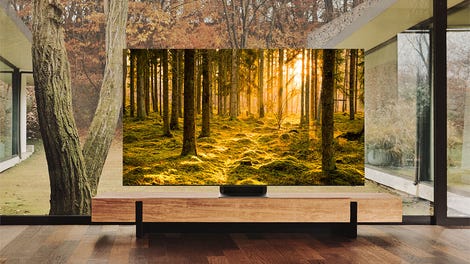 Up to 40% off
Samsung Smart TVs
Flora started playing Guild Wars in 2005. "It was my first MMO," she said over the phone. "I fell in love with it." She has logged over 4,000 hours in the first game, and about another 2,500 in Guild Wars 2. "The local Game Stop people know me as the 'crazy Guild Wars lady,'" she said. It's been a constant in her life for over a decade, and a place where she's met some lifelong friends. She was excited that they contacted her at all, let alone send her a shirt.
Soon afterward, Siadina said that her mother called her and told her that, "Someone called ArenaNet," made a $3,500 donation to their crowdfunding campaign. A few days after that she got a package in the mail. Siadina said that her mom told her, "This doesn't feel like a t-shirt." ArenaNet had sent her all of the Guild Wars games, signed by the developers.
"It was a magical thing opening that up an seeing all my beloved games," she said. "That's not to mention the t-shirt and the swag bag. All of these were signed."
Siadina seems a little overwhelmed by the generosity of this gift and the donation. When asked what she would say to ArenaNet, she said, "Thank you is so inadequate. It's all I got. Thank you for me and my family and everything. I didn't expect any of this." Between the support from them, the Guild Wars community and her local friends, she said that her faith in humanity has been restored, "a billion times over."
Siadina and her family are still trying to recover from the fire, although with the help of ArenaNet and the Guild Wars community, she has achieved the $5,000 goal on her crowdfunding campaign, with more donations coming in after her friend Pickles posted her story to the Guild Wars subreddit. "To have the Guild Wars community come up behind me so strongly and so positively, it's a blessing without price," Siadina said. "It's priceless."