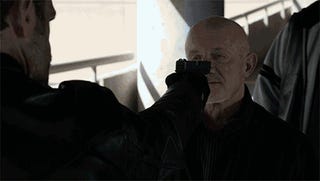 Last night's episode of Better Call Saul—the best show on television right now—guest-starred Steven Ogg, the man you may recognize as the voice of everyone's favorite hillbilly psychopath Trevor Philips.

Ogg, who played a slightly less unkempt criminal this time around, had the rare honor of getting beaten up by Mike Ehrmantraut, who then went on an escort mission alongside a guy who bears an uncanny resemblance to a certain GTA heist orchestrator.
You can watch the segment below (via Uproxx).
You can reach the author of this post at jason@kotaku.com or on Twitter at @jasonschreier.