Google's latest stab at building a social network, Google+, has (as expected) added games to its ever-growing list of services. And while it may boast many of the usual social games suspects, Google+ Games aims for more privacy and less pestering.
"Today we're adding games to Google+," the search giant writes on its official blog. "With the Google+ project, we want to bring the nuance and richness of real-life sharing to the web. But sharing is about more than just conversations. The experiences we have together are just as important to our relationships. We want to make playing games online just as fun, and just as meaningful, as playing in real life."
Google+ Games appears to be rolling out publicly in waves, as changes to Google products are wont to do. The line-up of confirmed games is at least 16 strong, including Rovio's Angry Birds, PopCap Games' Bejeweled Blitz, BioWare's Dragon Age Legends, Zynga Poker and more from Google's limited set of game partners.
Stressing the unobtrusive nature of its games roll out—and touching on a pet peeve of social game naysayers—Google says it wants to Google+ Games to be " there when you want them and gone when you don't."
G/O Media may get a commission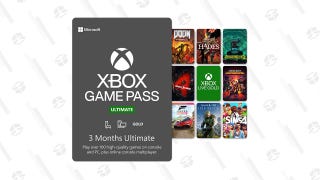 Save 11%
Xbox Game Pass Ultimate: 3-Month Membership
"That means giving you control over when you see games, how you play them and with whom you share your experiences," the company says, adhering to the social "Circles" structure of Google+ and addressing one of the major annoyances of games that push and pull personal info on rival Facebook.
"If you're not interested in games, it's easy to ignore them. Your stream will remain focused on conversations with the people you care about."
On the company's developer blog, Google engineering director David Glazer writes that Google+ Games is launching "with a small number of partners so that we could experiment, get the kinks out of our APIs, and get real end-user feedback before opening up to the world. "
"Because we want to provide both a great user experience and a great developer experience," Glazer writes, "we're focusing on quality before quantity."
Whether Google chip away at the dominance in social games already established by Zynga—which has exclusivity agreements with Facebook for popular titles like FarmVille, Mafia Wars and CityVille—with a focus on quality and privacy remains to be seen.
While an intriguing move, Google+ Games is certainly not the company's first foray into games. The company launched its Chrome Web Store last year, selling and giving away in-browser gaming apps to converts of its Chrome platform. Earlier this year, it began handing out a free version of Rovio's smash hit Angry Birds to Chrome users.
Google+ users, are you seeing games in your stream yet? Let us know about your experiences in the comments.
Games in Google+: fun that fits your schedule [Official Google Blog]
---
You can contact Michael McWhertor, the author of this post, at mike@kotaku.com. You can also find him on Twitter, Facebook, and lurking around our #tips page.