There are two things everyone needs when the economy's down: free stuff and a lot of laughs. Looks like you can get at least one of those from Secondhand Lands.
Secondhand Lands is a fantasy satire MMORPG starring such parodies as the Sugar Prune Fairy, Princess Pwnies of the Apocalypse and cable trolls. Starting today, it's a free download for PC from Pixel Mine Games.
What cracks me up is that the game is developed by a company called Callipygian Games. For those of you who aren't obsessed with asses, Callipygian means "shapely buttocks," from the name of a Greek sculptor who was quite fond of molding the backdoor. You learn something new every day on Kotaku.
Here's part of the press release:
Fans of tongue-in-cheek humor should head off the beaten path of MMORPGs today to play Secondhand Lands, a PC game which launched this morning as a free download from Pixel Mine Games. The offbeat fairytale MMORPG brings a fresh perspective on fun with four non-human races, player to player mounting, and a rofl-worthy world that tickles the funny bone at every turn.

Along with the vanilla game systems of standard MMOs, Secondhand Lands features player to player mounting. Wolves and Sheep can equip a saddle and invite Scrappers or Catgirls to ride them as if they were a player mount. Bobby Thurman adds, "Despite the 'mounting' jokes, you can see a huge change when two players mount and realize a new type of synergy beyond normal player grouping."

Secondhand Lands is a game that connoisseurs of the MMO genre will want to add to their repertoire. Crafters can make the most sophisticated items in game – cigars, antlers, butterfly wings, and jetpacks – using loot that drops from creatures in the world. Power gamers will want to check out the skill system, which can be configured in billions of ways.
G/O Media may get a commission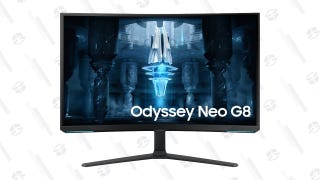 Samsung 32" Odyssey Neo G8 Curved Gaming Monitor
Get it here.