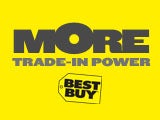 Trade in those stacks of played-out games crowding your apartment and get $20 Best Buy gift cards that you can use to load up on gaming gear—or on anything Best Buy offers, like TVs, sound systems, game accessories, music...and the list goes on!
It's easy: Just haul your games (worth $20 and up) to any one of the 600 participating Best Buy locations and trade them in for Best Buy gift cards that can be used storewide. Or, do the whole business online by clicking here! And if you feel like redeeming your gift cards for games, you'll get 500 Reward Zone Gamers Club Bonus Points when you pre-order select titles.
So clean up that game room and start getting more for your dust-collecting games. Trade them in at Best Buy today—online or in-store!
© 2010 BBY Solutions, Inc.