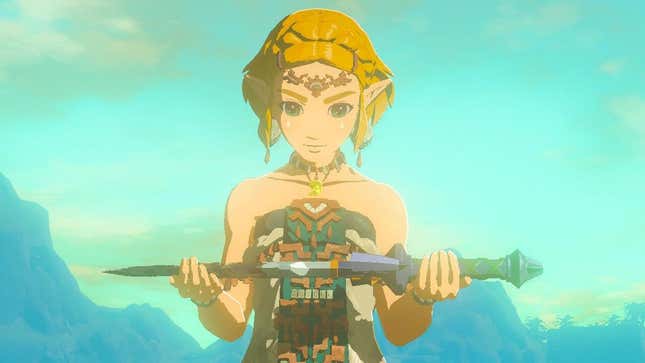 GameStop is a broken company that treats its employees like crap, but the meme stock phenonomon's accruing losses can be your gain. A current "buy two, get one free" deal on used games can save you a lot on some of the biggest hits of 2023 so far including Diablo IV, Star Wars Jedi: Survivor, and The Legend of Zelda: Tears of the Kingdom.
Tears Of The Kingdom's Newspaper Questline And The State Of Hyrulean Journalism
I call those games out in particular because they are some of the most critically-acclaimed of the year and the most expensive at $70 each. GameStop is currently selling used copies of each at $65 a piece, letting you grab all three for just $130 instead of $195, at least while supplies last. That's a lot of money upfront but those three games will also last you well into next year.
Shop the Sale: GameStop
The sale also applies to a bunch of other new and perennially popular games, including:
Final Fantasy XVI
Street Fighter 6
Dead Island 2
Hogwarts Legacy
Call of Duty: Modern Warfare II
God of War Ragnarök
Elden Ring
Pokémon Scarlet and Violet
Metroid Dread
Mario Kart 8 Deluxe
Animal Crossing: New Horizons
Super Mario Odyssey
The Legend of Zelda: Breath of the Wild
If you own a Switch you could go hard on Super Mario Bros. Movie-inspired bundle of Super Mario Odyssey, Super Mario 3D World Plus Bowser's Fury, and Mario Kart 8 Deluxe and save $55. Or you could snag The Last of Us Part I remaster, Resident Evil 4, and God of War Ragnarök for just $105. Of course, you can still get some savings on the cheaper end too for some older stuff. Grand Theft Auto 5, Marvel's Guardians of the Galaxy, and Deathloop are all $20 used.
GameStop has a long history of hawking used games for the slimmest of discocunts because it makes a much bigger margin on reselling pre-owned games rather than new ones. Long considered a controversial strategy, it's now become mostly just a legacy piece of the business as the majority of game sales shift to digital and GameStop fills the store shelves up with collectibles and Funko Pops instead. But for as long as the company hangs around, the freebies are a good way to save as companies hike up game prices amid ongoing inflation.
Correction 6/30/2023 4:01 p.m. ET: Fixed a typo in the first graph that stated it was buy one get two. Sorry for the confusion folks!