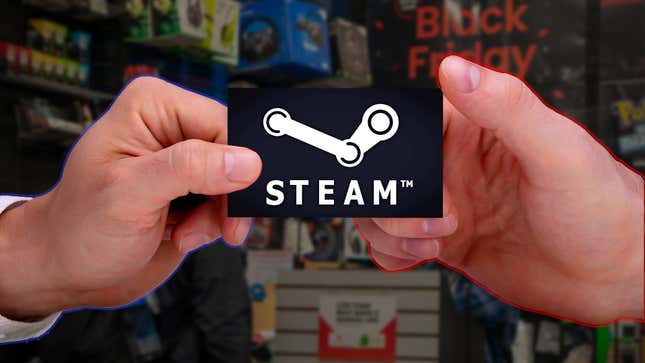 Someone walks into a GameStop and asks where the gift cards are. They proceed to buy a bunch of them. Not just $40, or $80, but hundreds of dollars worth of Steam cards, Razer Gold, or some other gaming currency. They don't look like someone who's knee deep in the seedy underworld of Counter-Strike skins. The person behind the cash register gets suspicious but they aren't supposed to pry. They know the customer is probably getting scammed but they don't want to insult them. The whole thing is incredibly awkward and sad and it happens more often than you think.
The Top Ten Most Played Games On Steam Deck: April 2023 Edition
"We had one very sick elderly lady that could barely walk and she came in at least once a week to buy $40 to $60 dollars in Razer Gold cards," one current store manager, Mike, told Kotaku (we are only using his first name because he was not authorized to speak to the press). "She told me about her 'husband' who was overseas and how she really needed him back home. This went on for months and eventually she confided in me that she had never met him in person."
The woman kept buying the gift cards though, sometimes coming in multiple times a week and spending hundreds of dollars a month. Mike said this went on for years. She wasn't the only one though, and things got so bad at one point the store started hiding some gift cards, like the Razer Golds, to avoid the headache. "Steam we can't really hide because we sell a ton of those legit," Mike said. "Razer Gold was only ever bought by scam victims, sadly."
Steam gift card scams are getting more common
Gift card scams of this nature usually revolve around a stranger reaching out online or over the phone and making up a story for why they need you to send them money in the form of gift cards they can easily convert online into straight cash. Sometimes they might attempt to catfish someone and guilt them into giving them the funds. More often the scammers pose as a debt collector or distant relative who needs the money to get out of a jam.
According to the Federal Trade Commission, gift card scams rose by 60 percent from 2016 to 2020. They're so common now that the federal government has an in-depth guide to help people avoid them. Steam cards seem to be a particularly popular form of payment too, in part because they're so easy to resell online. A woman in New Zealand reportedly lost over $30,000 to Steam gift card scams back in 2021. It got so bad Valve itself put out an FAQ that same year warning people about the different types of fraudulent schemes.
Several current and former GameStop workers Kotaku spoke with shared similar stories of customers, often elderly ones, coming in looking, sometimes anxious, with different excuses for why they needed the gift cards. One current GameStop employee remembered a woman who came in asking for $400 in Steam cards. When pressed, she said her friend emailed saying they were on vacation and had run out of money. The employee told her she couldn't buy more than $200 in a single transaction.
Read More: GameStop Employee Explains What Made Her Close A Store And Never Come Back
"I had another guy a few months ago who started coming in every day buying $200 of Steam [cards] because he had a friend who was converting it to Bitcoin and honestly he tried to explain it to me but this was clearly a pyramid scheme or some kind of money laundering but the guy didn't want to listen so I sold him the cards," the employee told Kotaku.
The employees said that while the issue is well known, GameStop never had an official policy or protocol for addressing it. A few years ago it implemented a cap of $200 in gift card purchases per customer per day, but gave no specific instructions or training for how to talk to customers who might be getting conned. Mike contrasted this with Best Buy, where he said the gift card section included printed-out warnings about possible scams.
GameStop gets scammed too
Where GameStop apparently has had a zero-tolerance policy for gift card hijinks is when its own money is on the hook. While customers getting scammed into buying Steam cards has become more frequent in recent years, so have employees getting scammed into giving them away. "A common scam is someone pretending to call from corporate or tech support," one current employee said. "They'll ask an associate to run a mock transaction on some high amount of gift cards to see if it's working."
Sometimes the scammer will even rattle off names of the local staff, all the way up to the district manager, to try and win their confidence. Or they'll make threats to scare new hires who don't want to lose their jobs. "The scammer will then have them read the card back to them and bam," the employee told Kotaku. "That's hundreds gone. Some scam calls have taken $4,000 or $5,000 off of a store."
According to several staff, these scams aimed at GameStop employees have gotten worse over the last year as training and resources have repeatedly been cut. "It's a by-product of the insane turnover we have," Mike, the store manager, said. GameStop's corporate office mandated that notices be put up in back rooms warning employees about the scripts scammers use, and had big red stop sign stickers put on phones to try and get them to remember. For employees who don't have enough experience, however, it's not always enough. "16 hours [of training] and then you give them keys to the store."


But it's the customers getting tricked that can be the most upsetting for GameStop workers, especially when they don't want to listen. Mike said he remembered one older Southern woman who came in several years ago and was a big country music fan. When she came in trying to buy hundreds of dollars' worth of Steam cards, Mike asked why. She apparently ran a Kenny Chesney club on Facebook and told him Chesney himself had joined and befriended her and needed the money for his tours. "I couldn't talk her out of it."
Some people do listen, however, which can be both a relief and a good feeling. "I do have a single good story," Mike said. "Once I had an elderly man come in saying he needed $500 in Steam money. I knew instantly what was happening so I asked him flat out what for. He said his brother in Cali had emailed him and his car broke down and he needed the money for repairs."

Mike said he explained that the cards were only for PC games and asked if the man had actually spoken to his brother. "He thought for a moment before calling his brother," he told Kotaku. "After the call he began crying and thanked me profusely. The brother's email was hacked and he didn't even think to call because these elderly folks are just not keen on tech and how things work. The idea of scammers and hackers is so foreign to them they just don't understand."