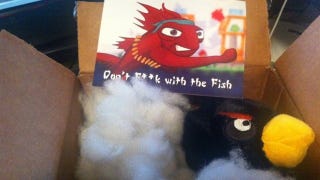 Fish of Fury -This gutted bird and a postcard of a furious fish showed up on my doorstep today.
Looks like we're going to have to make do with a beta for longer than some of us had hoped, Blizzard this morning said that Diablo III won't be hitting computers until early next year. More »
---
The Tokyo Game Show didn't just give us a chance to check out nearly three dozen games, it also gave us our first look at what Sony says is the final design for their PS Vita. More »
---
Silence and danger; stark, foreboding mystery, and the wonders of a truly alien world. Eric Chahi's Another World stands as one of the great video games of the 1990's, a testament to the power of one man's creative vision. More »
---
Last week we wrapped up our first experimental season of Retro Game Master.
Sure this is the Internet, but we thought it would be fun to run a full season of the first official U.S. More »
---
Last night on TBS's Conan, Mr. O'Brien touched on game reviewers' fears that the more mature, emotional storyline for Gears of War 3 might alienate hardcore gamers. More »
---
The original 2007 Crysis has a benchmark-y quality to it. It is no longer the Best-Looking PC Game In The World, but it retains some of that "must-have" mystique nonetheless. More »
---
Reddit user notadoctoreither shall henceforth be known as king of the Oblivion fans, having spent a month's time and $130 collecting the countless books scattered across the game's cities and towns into one gorgeous tome, and you can too. More »
---
In this teaser trailer for a full length ad to run on television September 27, rapper Jay-Z explains that while Battlefield 3 does have (at least) "99 Problems", not one of those problems is a bitch. More »
---
With Nintendo placing emphasis on delivering strong gaming experiences to their latest handheld. just how important is the 3D in the 3DS? According to a recent survey, more than 28 percent of 3DS owners feel the special effect takes away from gameplay. More »
---
Do you ever use a word without fully understanding what it means? I have a friend like that. He uses the word "frumpy," but I'm fairly sure he's never opened the dictionary to find out just what it means. More »
---
This week our own Owen Good took a moment to remind us that our Gaming App of the Day feature isn't just about the gaming apps we love. It's also about Haraka. More »
---
The tough-as-nails Rain Ocampo might have met her grisly end in the first Resident Evil flick, but that's nothing a few flashbacks can't fix in next year's Resident Evil: More »
---
Payday: The Heist is a first-person cooperative heist game inspired by some of the best in crime cinema. Here's a look at a run, or attempted run, through Heat Street, the game's caper loosely inspired by the movie Heat. More »
---
We like tips!
Got tips for our editors? Want to show the world your latest creation? Ready to anonymously share an unannounced game? Email us at tips@kotaku.com. Or leave us an anonymous voicemail at (612) 568-2581.
Want a different layout?
Click here for the Speak Up or Tips forums. Want a more "blog-like" look? Click the button up top next to "Top Stories."
Get more Kotaku!
Want even more Kotaku? Want to know which of your friends read us? "Like" us on Facebook and follow us on Twitter.