Francis Ngannou was the closest thing to a sure bet the UFC's had in years. The company, notoriously hesitant to put its full promotional heft behind anything that doesn't walk, talk, and mock like Conor McGregor, revved up the rusty gears of its marketing machine to convince everyone that Ngannou was an oncoming locomotive of sheer inevitability. One problem: he wasn't ready.

Hype is a strange thing in combat sports, especially in the UFC. You can't force it, or else you risk ending up with busts like the UFC's pre-anointed 2016 golden pair, Sage Northcutt and Paige VanZant, both of whom got pushed too far too fast, suffered a string of defeats, and lost their sheen to the muck of mediocrity. Hype needs a conduit, a spark of reality that fan chatter and promotion can grow into a larger-than-life conflagration.

Francis Ngannou had that spark. Thanks to a life story of overcoming wild odds, and a habit of scoring earth-shaking one-punch knockout victories over former heavyweight kingpins Andrei Arlovski and Alistair Overeem, Ngannou could back up his hype with suitably wild shit in the octagon. It doesn't hurt that he's a mountain range of muscle with the serene confidence of a still sea. The UFC has proven stubbornly opposed to promoting interesting prospects in recent years, but a quiet killer cut from a mold that screams "cage fighter"? That's one of the few blueprints they actually know how to work with.

And they did. The UFC whipped people into a frenzy over Ngannou, so much so that his opponent, well-rounded, reliable heavyweight champion Stipe Miocic, felt downright disrespected. While most 2017 UFC cards lacked the aura of excitement that marks truly transcendent events, the first big card of 2018, Ngannou vs Miocic, had people buzzing. On fight night, I tried to go to a bar—one that's fairly nondescript and off the beaten path—to watch it, and a bouncer literally stopped me at the door. The bar was full. Sweaty, clumped-together crowds were on their feet in anticipation.
G/O Media may get a commission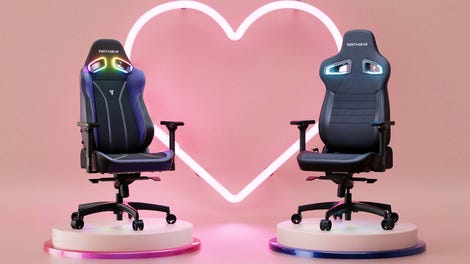 Up to $150 off
Vertagear Gaming Chairs
But hype, like anything in combat sports, comes down to a series of moments, tests you either pass or fail. Ngannou had passed every one of his tests with flying colors up to that point, so many considered it a foregone conclusion that he'd knock this one out of the park with his disarmingly fast fists, too. It was to be Ngannou's coming out party, the moment he ascended from cage-bound circus intrigue to global superstar.

Now, there were a couple ways Ngannou could've passed this test. Obviously, he could've decapitated Stipe Miocic with a single stroke of his comic book hero arms, guillotine-like in their efficacy. That's what the UFC—and also Ngannou—wanted. That said, he also could've taken everything Miocic had to offer, returned fire with plenty of his own, and lost a narrow decision. That would've also probably raised his stock instead of lowering it, given that prior to the Miocic fight, Ngannou had spent precious little time in the cage, had never seen a third round (let alone a fifth), and shown a natural ability to adapt and improve between fights.

Instead, after a barn-burner of a first round in which Ngannou abandoned his typical counter-punching game and swung for the fences, he wilted into an exhausted shadow of a man. From that point on, he was easy pickings for Miocic, a fighter with crisp boxing and a strong wrestling game to back it up. Miocic made Ngannou carry his weight for five rounds, beating on him and sapping his will to fight all the while. When the fight hit the floor, Ngannou seemed out of his depth, clueless as to what to do against a decent grappler. Credit where credit's due: Ngannou absorbed a serious beating, but he never backed down or got wobbled. He survived all five rounds, which is a feat unto itself. However, for all his striking prowess and ability to shuck off takedowns, Ngannou's effort at UFC 220 proved, more than anything, that he still has glaring holes in his game. He made it to the top of the mountain, but he slipped before he could plant his flag.
Given that Ngannou's only been a professional fighter for four years, it's not entirely surprising that Miocic beat him so lopsidedly. The distortion field that hype creates, alongside Ngannou's rapid and visible improvements from fight-to-fight, caused many people to disregard his relative inexperience. He'd find a way, they said. To hear Ngannou talk about it post-fight, he believed it, too. There's a line between confidence and buying into your own hype, and it's entirely possible that Ngannou crossed it.

The question, though, is what happens now. The UFC's first bid in ages to manufacture a new superstar, something it's in dire need of, failed. The organization's not back at square one, but it's doubtful that we'll see Ngannou running the late show circuit or dominating the headlines of mainstream publications any time soon. Miocic, meanwhile, is a great fighter, perhaps one of the greatest heavyweights of all time, but he just doesn't have the "it" factor the UFC is looking for. Will the UFC, in a rough spot after the down year that was 2017 and in need of bargaining chips as it negotiates a new TV deal with a shrinking pool of suitors, try to push another fighter into stardom this year? Or will UFC president Dana White, a promoter by trade, continue to insist that fighters should make themselves into stars... somehow? Given that the Ngannou thing, the UFC's surest bet, didn't pan out the way they'd hoped, I don't like other fighters' chances, especially if they don't fit traditionally marketable molds.

There is, however, a certain kind of joy to twist endings, especially when they involve, as MMA writer Chuck Mindenhall put it, the "public execution of hype." Hype is a product of expectations and establishments—often a literal product that somebody is trying to sell you. There's a subversive glee to watching it collapse on itself. Plus, one of MMA's central appeals is that Anything Can Happen. The cage is where foregone conclusions (fore)go to die. Ngannou's hype may have taken a hit, but watching it happen was still thrilling. Well, for the first couple minutes, anyway.
Of course, the current reality of MMA also makes it nearly impossible to reliably churn out stars. You never know when the next big thing might get turned into yesterday's news. MMA fans are vicious, and already, they're acting like they knew that Ngannou only had a puncher's chance all along. In this case, though, I do think there's a silver lining: after the fight, Ngannou showed up to the press conference, something many fighters on the wrong end of a tough loss don't do. He calmly admitted that he underestimated his opponent and said that he learned more in that one fight than he did in four years of professional fighting. He took his lumps, survived, and to hear him tell it, learned. If that's truly the case, then he'll be an unholy goddamn terror when he finally puts everything together. Perhaps, then, Ngannou's star is still on the rise. It's just taken a bit of a detour.