While the reaction to the improved graphics and control in the Xbox One's next-gen racing simulator has been enthusiastic, players have been grousing almost universally about one thing: pervasive microtransactions. Dev studio Turn 10 has heard the feedback and has just announced a new round of changes to Forza Motorsport 5's in-game economy.
The Week In Games: Fishing For Mysteries And Gang Wars
Over this past weekend, right after the Xbox One's debut, discussion threads on Reddit and NeoGAF were buzzing with complaints about how more grinding is required to earn the in-game tokens needed to buy parts, liveries and other desirable items. The takeaway has been that Forza 5 seems increasingly designed to get players to spend real-world cash for top-tier cars and perks. Here's NeoGAF user SeanSpeed:
After learning a bit more about how Forza 5 works, I must say, they definitely have made some changes that are, without a doubt, designed to encourage people to buy cars with real money to the detriment of the game experience.

Seems like earning potential and car prices haven't changed. That's the good news.

But these few things all combine to make a pretty big and noticeable difference:

- No cars unlocked as you level. There is no logical, game-enhancing reason this was taken out. Its something that most everyone enjoyed. Some tweaks could have been to the 'progression' of cars you unlocked, but certainly no one wanted the whole system taken out.

- Manufacturer affinity is gone. This was something that also could have used some tweaking, but was otherwise a very good idea. Before, you could basically get free upgrades quite quickly. That could have used changing. It was definitely too quick. But again, people liked the system and it didn't warrant taking out. The fact that you can use tokens to buy upgrades now makes it blatantly obvious what the intentions were here.

- Free Play no longer allows you to drive any car in the game. Before, while some cars were quite expensive, it didn't stop people from the enjoyment of driving them if they wanted to. You just wouldn't own the car, couldn't customize it or race it in career. This was a fantastic compromise, as you could test drive anything you wanted and even if you couldn't afford an expensive car you really liked, you could still get to experience it out on-track. With that gone, it really pushes at the car collector types to pay real money.

- No buying/selling paints/setups/vinyls. You can still make some money off of this, but there will clearly not be any sort of ecosystem built around this like before. No reason for this to have happened. People *loved* the way it was.

- Buying cars and upgrades, the game definitely treats 'car tokens' as an equally viable way of bartering. Every step of the way, prices are given in credits and tokens, with equal font size and all, even going as far as having a little pop-up menu to 'confirm' whether you're going to buy with credits or tokens.

It all amounts to a blatant attempt at encouraging people to spend more money. All at the detriment of the game from several important angles.

So I was wrong here guys for defending this. I didn't realize it was going to be that bad. Its definitely not like previous Forza's at all and is totally shameful.
G/O Media may get a commission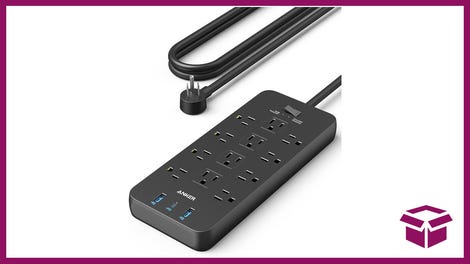 28% Off
Anker Power Strip Surge Protector
Microsoft execs had said that they'd be monitoring player reaction to see how they'd need to adjust. An announcement from Forza community manager Brian Ekberg that's gone out today does just that, including a 50% discount on all cars:
Based on the numbers we've seen from our first week of FM5, as well as feedback we heard directly from you, we're in the process of making some changes to the Forza Motorsport 5 economy. But, while we're putting the final touches on that, we want to make sure everyone continues having a great time with Forza 5. So, the following programs are going into effect this week:

1) Starting this Friday we're offering a 50 percent discount (credits & tokens) on every car in the game. This discount is available to all players. Every car, from the 1970 Nissan Datsun 510 to the 1962 Ferrari 250 GTO will be 50 percent off, so, if you've got your eye on something special on the car list, now's the time to play and add them to your garage! This discount will be available between 12:01 a.m. Pacific on Friday, Nov. 29 and 11:59 p.m.Pacific on Sunday, Dec. 1.

2) If you are a Forza Motorsport 5 VIP member, you'll receive the 2013 Lotus E21 grand prix car as a thank you. (Note: You must own Forza Motorsport 5 VIP membership to take advantage of this offer.) In addition to being one of the most radical and expensive cars in FM5, the E21 is also one of the quickest. For more on the E21, check out its entry on the Forza Motorsport 5 Cars page. This gift may take up to 24 hours or longer to be fulfilled in the game and, in order to receive your gift, you will need to back out to the main title screen with the orange McLaren P1 and then press "A" to log back in.

3) Those players who have already purchased the 2013 Lotus E21 as of today (Wednesday, November 27) will also receive the 1962 Ferrari 250 GTO asa further thank you. This gift may take up to 24 hours or longer to be fulfilled in the game and, in order to receive your gift, you will need to back out to the main title screen with the orange McLaren P1 and then press "A" to log back in.

4) For those players who have purchased the LaFerrari Car Pack or the Forza Motorsport 5 Car Pass we'll gift the 2013 LaFerrari directly into your Forza Motorsport 5 garage. No need to purchase the car separately with in-game credits or tokens. (Note: In order to receive and use these gift cars, you'll need to own either the LaFerrari Car Pack or the Forza Motorsport 5 Car Pass). This gift may take up to 24 hours or longer to be fulfilled in the game and, in order to receive your gift, you will need to back out to the main title screen with the orange McLaren P1 and then press "A" to log back in.

5) Finally, we're dramatically increasing the credit payout available to all Forza players in December via Forza Rewards, our ongoing loyalty program that rewards players with credits and cars for playing Forza games. You'll be able to redeem these rewards in December but here's a tip: The higher your Tier level reaches before December rolls around, the better the rewards you'll be able to redeem, so get your play time in now and level up!

Now, a word about tokens in the Forza Motorsport 5 Limited Edition. In our original description for Forza Motorsport 5's Limited Edition, we told you that Limited Edition owners would get 1,250 in-game tokens, which we mistakenly said would be enough tokens to afford any car in the Forza 5. It isn't. As a result, a number of you have pointed this out to us – that there are a number of cars in the game that cost more than 1,250 tokens to purchase.

We're sorry. In order to make up for this discrepancy, we will soon be offering Forza Motorsport 5 Limited Edition owners the chance to download and own the car of their choice in the game. Players will be able to choose from any of the on-disc cars in Forza 5 and will be able redeem this offer on ForzaMotorsport.net via a dedicated page that will be available no later than December 16.

Looking ahead, we'll continue to make further adjustments to the Forza Motorsport 5 economy when they're needed and I'll be sure to keep you informed as these changes are made. For now, take advantage of all the cool stuff coming your way and, as always, thanks for your patience and for being a member of the Forza Motorsport community.
(image via Reddit user Professor_Snarf)