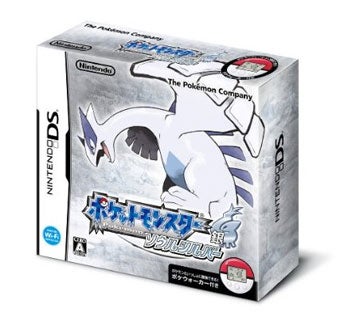 Forza Motorsport 3 gives the Xbox 360 a rare top ten placement on Media Create's weekly list of the bestselling games in Japan. It's one of a handful of new debuts that came nowhere near unseating Pokemon as software champ.
Yes, Pokemons Heart Gold and Soul Silver once again top the Media Create software chart, followed by chart toppers Wii Fit Plus and Tomodachi Collection. Another good week for Nintendo. It was also a pretty good week for games like Rune Factory 3, FIFA 10 and Shin Sangoku Musou 5 Special.
Last week's top ten debut from Nathan Drake and the Uncharted 2: Among Thieves cast is followed by another top ten appearance. Not too shabby!
01. Pokemon Heart Gold/Soul Silver (S) - 118,000 / 2,756,000
02. Wii Fit Plus (Wii) - 88,000 / 699,000
03. Tomodachi Collection (DS) - 52,000 / 1,466,000
04. Inazuma Eleven 2: Fire/Blizzard (DS) - 49,000 / 486,000
05. Rune Factory 3 (DS) - 41,000 / NEW
06. Forza Motorsport 3 (Xbox 360) - 32,000 / NEW
07. FIFA 10 (PS3) - 21,000 / NEW
08. Wii Sports Resort (Wii) - 19,000 / 1,319,000
09. Uncharted 2: Among Thieves (PS3) - 19,000 / 72,000
10. Shin Sangoku Musou 5 Special (PSP) - 18,000 / NEW
11. Gran Turismo (PSP)
12. Harukanaru Toki no Naka de 3: Unmei no Meikyuu Aizouban (PSP)
13. Dragon Quest IX (DS)
14. Undead Knights (PSP)
15. Monster Hunter Portable 2nd G (the Best) (PSP)
16. Love Plus (DS)
17. Shin Megami Tensei: Strange Journey (DS)
18. Macross Ultimate Frontier (PSP)
19. Jikkyou Powerful Pro Yakyuu Portable 4 (PSP)
20. Antiphona no Seikahime: Tenshi no Gakufu Op.A (PSP)
21. Tales of Vesperia (PS3)
22. Call of Duty 4: Modern Warfare (Bargain Edition) (PS3)
23. FIFA 10 (Xbox 360)
24. Fullmetal Alchemist: Senka wo Takuseshi Mono (PSP)
25. Minna no Sukkiri (PSP)
26. Mario Kart Wii (Wii)
27. Uncharted: Drake's Fortune (the Best) (PS3)
28. Okami (Wii)
29. Shin Sangoku Musou: Multi Raid Special (PS3)
30. Steins Gate (Xbox 360)