Forza Motorsport 3 is car porn in motion.
"We've got this clean look based on the look of a car brochure," said Forza Motorsport 3 director Dan Greenawalt. "We call it car porn.
But Forza 3 is more than just 400 cars from 50 manufacturers and 100 tracks, it's developer Turn 10's attempt to bridge the gap between racing sim and arcade racer without leaving anyone behind.
"Our goal is to turn gamers into car lovers and car lovers into gamers," Greenawalt said. "To deliver approachable and thrilling gameplay."
That's a tricky proposition when you have one group of gamers that worry over the nuance of car physics and handling, dismissing any game that doesn't match the real world, and another group that feels lost in a game that is too real, instead opting for arcade fun.
G/O Media may get a commission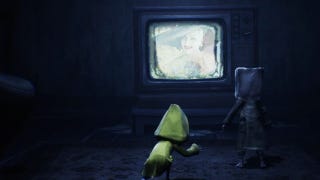 Horror Video Games to Play Leading Up to Halloween
Spooky and scary
Something video games have over their film counterparts when it comes to horror is the player's agency. Sure, watching the slasher claim their next victim can get a jumpscare out of you, but you know what's scarier? Knowing you had the power to stop it. Watching someone slowly open a door and enter a dark room is unnerving, but having to do it yourself will send shivers down your spine and paralyze you with fear.
Turn-10's solution is to have a robust selection of assists which can be turned on or off on the fly. At its easiest, Forza 3 even brakes for you, leaving the gamer to hold down the gas and keep the car on the green line which shows the best approach to every turn. At its hardest, Forza 3 mimics the behavior of every vehicle, given each it's own distinct physics and feel.
The Xbox 360 exclusive also features a new rewind button. At any point you can press the back button on your controller and go back in the race five seconds. There are no limits to when or how often you use this feature in a race. It's there, Greenawalt said, so perfectionists don't have to restart an entire race after one small mistake.
And for both the hardcore and arcade race fans there are the graphics and the spectacular damage modeling.
"Part of our perfectionism is how we capture the cars," Greenawalt said. "We are car freaks, we want to capture that, we want to show these cars off, we want to worship them."
Forza Motorsport 3 features ten times more polygons in each car model and four times the texture resolution than found in Forza 2 he said. The game delivers these astonishing realistic graphics while calculating physics at 360 frames per a second.
"Our new graphics engine pushes the 360 in new ways, ways it has never been pushed before," Greenawalt said.
To create the setting for the game's tracks, like the three set in Montserrat, Spain that were being shown at E3, Turn 10 take thousands of photographs at the scene, including aerial shots. The team also worked to meticulously capture the cockpit of every car included in the game.
Damage modeling for the cars, all of the cars, is also carefully detailed. And in Forza 3, all 400 cars now include the ability to completely roll over in a race, something no racing game has ever tried before, Greenawalt said.
Getting permission from the 50 manufacturers for this unheard of level of damage modeling was a matter of talking to each individually.
"We go to a manufacturer and say we're a sim and as a sim, cars roll over," Greenawalt said.
Greenawalt also mentioned that Forza Motorsport 3 has a "strategic partnership" with Audi.
"We saw the brands meshing really, really well," he said. "You will hear a lot more about that in three months."