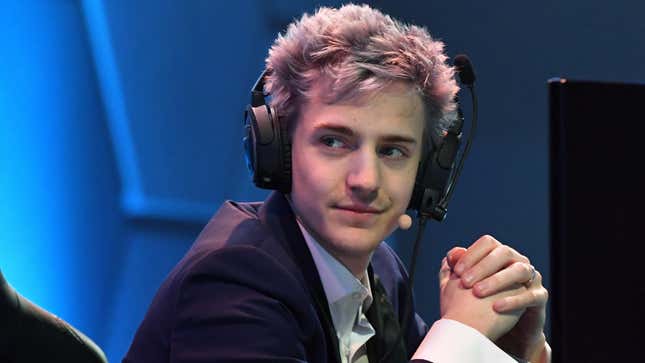 Once top-dog of Twitch, Tyler "Ninja" Blevins, was streaming some Fortnite with his brother on April 5 when the latter asked him about Kick and Mixer. Ninja had a few things to say about both platforms, explaining exactly why the Stake-backed Kick has potential, and how Microsoft's now-defunct Mixer ended up failing.
A Foe From The Next Team Ninja Game Is Giving Me Sekiro PTSD
Ninja was, at one point, the biggest name on Amazon's livestreaming platform. With 18.5 million followers and tens of thousands of viewers watching him for over 356 million hours, Ninja became the face of Twitch, appearing in Fortnite as a purchasable skin, showing up in commercials and movies, and receiving a bevy of awards for his content. In August 2019 he moved to Mixer on an exclusive contract as a means to beef up Microsoft's livestreaming platform as a viable Twitch alternative. However, that blew up in June 2020 when Microsoft unceremoniously shuttered Mixer, leaving streamers on the platform scrambling to restart their Twitch careers. It was a complete mess.
Read More: Mixer's Last Day Was A Ghost Town
Ninja has since returned to Twitch, periodically streaming Fortnite with family and friends in a more casual way. He still gets animated, yelling loud enough you can see the veins in his neck, but the vibes are more low-key as he ages. April 5's livestream was indicative of this, as Ninja talked calmly to his chat and brother, Jonathan "BeardedBlevins" Blevins, while getting Ws and taking Ls. In between the Fortnite victory royales, Ninja and his brother chatted a little about Kick, Mixer, Twitch, and why competition is good for the world of livestreaming.
Creating a Mixer account was complicated
Ninja said he's been watching streams on the newest broadcasting platform more to check the vibes and walked away "affirming Kick." He clarified he isn't moving to Kick in the same way Adin Ross did in February, but confirmed that he thinks Kick's 95-to-5 revenue split makes it a "super contender" for streamers.
"I don't think Kick is bad," Ninja says in the above video. "And obviously it's incredible for competition, of course. Competition breeds amazing deals."
BeardedBlevins wanted to get a little bit more out of Ninja, so he asked the former Twitch star why Kick might succeed where Mixer seemingly failed. Ninja's biggest issue with Mixer? Creating an account was far too complicated.
The main issue with Mixer compared to Kick, and it's abundantly clear, [is] it took too long to get things done, right? There was like 80 different billion people [sic] that had to reach out to somebody else who had to reach out to somebody else who had to reach out to Microsoft who had to reach out to somebody up top at Microsoft even more to get, like, confirmation to change anything. Right? So, when I went over to the platform, my moderators had several calls with Mixer employees about improvements that everyone in my stream, and myself included, [could] be doing differently that would just help the site out. Several calls, hours wasted. And one of them simply being—there's several—but one of the main issues was there needed to be an easier way to sign up and make your username, right? I had to have every one of my family members, including Jessica [ Blevins], [get] direct help from a Mixer employee to make an account. Like, that is unbelievably not OK.
Kotaku reached out to Ninja for comment.
Streamers on Kick are getting large moneybags
Creating an account on Kick is pretty easy, requiring just your birthday, email address, username, and password. So, that's one leg up Kick has over Mixer. But the primary aspect that has streamers new and old interested in the new kid-on-the-livestreaming-block is Kick's 95-to-5 revenue split, with streamers keeping 95 percent of the money their subscriptions bring to the platform.
Most of these subscriptions, however, are gifted subs. As the name suggests, a gifted sub is a way for viewers to hand out one-month subscriptions to a streamer's channel to another user. By doing this, viewers can help each other bypass annoying on-screen ad reels while directly supporting their fave streamers. However, as some folks mentioned, including Ninja, the revenue coming from gifted subs is "extremely volatile" and "incredibly unstable." Still, Kick co-owner Tyler "Trainwreckstv" Niknam clarified that Kick "will not touch your sub revenue," and Ninja suggested streamers "move to Kick" to get the bag. So, although there's trepidation about the long-term sustainability of Kick's revenue split, it appears folks are enticed by the short-term profit margins.
It's worth noting, though, that Kick's moderation is lacking, to say the least. The platform and some of its stars, including Adin Ross and Heelmike, have drawn ire for broadcasting overtly sexual content. The terms of service are also incredibly lenient, letting creators get away with things like streaming the Super Bowl despite the possible lawsuit it could bring. Kick may be a nice way for some streamers to earn more money without going live for as long, but it's also a place where extremist and other problematic content can fester.
Read More: Twitch Star Is Hawking A New Livestreaming Platform Owned By Banned Gambling Site
While Kick is the newest platform to enter into the livestreaming space, creators have a number of viable options. You've still got the reigning champion Twitch, of course, but YouTube Live has been making strides as well, especially considering its 70-to-30 revenue split when compared to Twitch's 50/50. There's also Facebook Live, and TikTok got livestreaming capabilities about a year ago now. However, it's Kick that's garnering much of the attention. The platform's signed some big creators, from the problematic Adin Ross to Chess.com grandmaster Hikaru Nakamura to popular Instagram vlogger Corinna Kopf. With Niknam suggesting that more signees are to be announced in the near future, it'll be interesting to see how Kick disrupts the livestreaming world.