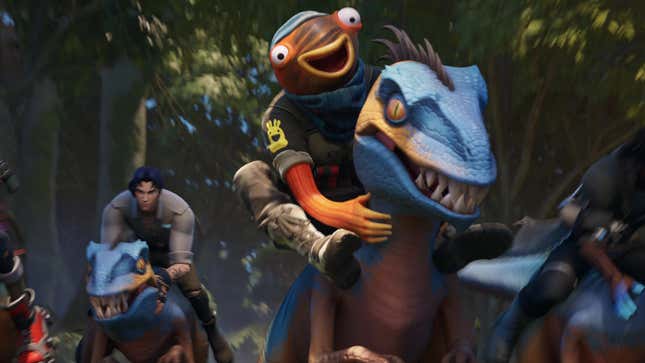 Fortnite just debuted its latest season, which features dinos and Transformers (well, Optimus Prime, anyway) on an island where vast new sunken wilds have been revealed. There's a new battle pass to grind, new skins to unlock, a new map, new augments, and new weapons and items to discover. That's all well and good, but a new season also means it's time to say goodbye to a list of items that developer Epic Games deems incompatible for the new gameplay loop. And among other things, those newly vaulted items include Chug Splashes, Shield Bubbles, and the Shield Keg.

Dead By Daylight Devs' New Game Is Fortnite Meets Doom
Chug Splashes, as fans know, are items that you can quickly throw onto the ground for immediate shield fortification. Shield Bubbles, meanwhile, are like little fortresses that will protect you from anything outside their sphere. The Shield Keg, lastly, is an item that sprays healing liquid slowly over time, regenerate your shield. Each of these shield-focused items had their uses, but I was particularly fond of the Chug Splashes, because I could use them mid-firefight without having to stop and wait for the healing animation to finish. Chug Splashes were practically made for clutch moments.
The other ones, well, your mileage will vary. I'm sure people were great at using them but I often found my Bubble Shield plans popped by enemies who would, gasp, simply walk into the dome. The Keg is extremely useful if you have the time, because it will heal a lot more than other options do, but it doesn't quite feel as exciting as the rush you get from just barely surviving because you threw a Chug Splash at the right moment.
Regardless, though, some fans are baffled by these changes. "This is literally the worst season I've played," one fan dramatically declared on a Tweet that noted all the vaulted items. "CHUG SPLASHES AND SHIELD KEG NOOOOOOOO," another screamed, appending three broken heart emojis to their wails. Most of the top comments followed suit, bemoaning that they were going to have to say goodbye to their beloved shield.
Alexa play Despacito.
Looking over some of the changes, though, it appears to me that that Epic Games wants this season to be more up-close-and-personal. The focus appears to be on juicing the action, rather than potentially stopping or prolonging it. To wit, the Shell Slide augment lets you gain shotgun shells while sliding, and Reckless Rifle Reload makes your Assault Rifle reload faster only when it's completely empty. There's also an augment that will give you thermal vision and regenerate your health while you ride animals, so there's a lot of incentive to move fast and shoot until your clip is empty, perhaps while riding the season's new dinos. Shields be damned!
What's getting vaulted in Fortnite Chapter 4 Season 3
Heisted Explosive Assault Rifle

Overclocked Pulse Rifle

Auto Aim Pistol

Twin Mag SMG

Normal DMR

Chug Splashes

Shield Bubbles

Shield Keg

Combat Shotgun

Mythic Enhanced Havoc Shotgun

Dragon's Breath Sniper
What's getting unvaulted in Fortnite's new season
Thermal Floppers

Exotic Tracker Pistol

Combat SMG

Drum Shotgun
Fortnite Chapter 4's new Augments, and what they do
Primal Companion: Gain thermal vision and regenerate Health while riding animals. -

Wildwasp Weaponry: Receive some Wildwasp Jars, and gain an additional one with every elimination.

Sprint Lines: Gain a Slap effect upon using grind vines, grind rails, ziplines, or Ascenders.

Shell Slide: Gain Shotgun shells while sliding.

Swift Shotgun Reload: Your Shotguns will reload faster.

Reckless Rifle Reload: Your Assault Rifles will reload significantly faster when the magazine is empty.

Medium Ammo Acquired: Instantly gain medium ammo, then gain more when you open containers.