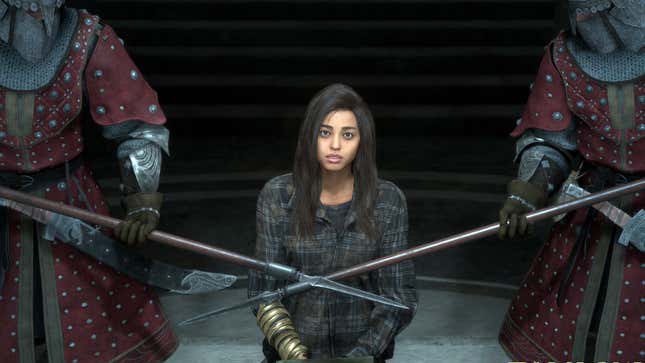 Correction 1/25/2023, 10:40 a.m. ET: It has been brought to Kotaku's attention that localizers and quality assurance testers are fully named in Forspoken's opening credits screen, with a condensed end credits sequence naming a handful of other developers. We apologize for the mischaracterization.
This Mini Sega Arcade Cabinet Packed With Retro Games Would Make A Great Gift
Forspoken, the newest action-adventure romp from developer Luminous Productions, caught flack online after failing to fully list its localization and quality assurance teams in its end credits, though full names appear to be listed in the opening credit sequence.
Published by Square Enix, Forspoken is a movement-heavy, open-world action RPG. You play as Frey Holland, a New Yorker who gets transported to the magical world of Athia where evil sorceress queens rhyme with enough frequency to probably write an entire rap album. The game is getting mixed reviews from critics, holding a score of 68 on Metacritic and 69 on Open Critic. But it's not just Forspoken's Whedon-esque dialogue that's drawn the internet's ire.
Read More: Everyone Who Worked On A Game Should Be In The Credits
"In Forspoken, you can find monsters, magic, cool abilities…but no proper credits," audiovisual and video game translator Yasmina Casado González said in a since-deleted tweet on January 24, as first spotted by TheGamer. "Any reason you didn't credit the whole localization team, [Luminous Productions]? I see a huge list of companies/subcontractors, but almost zero individual names…"
In their tweet is an image of Forspoken's end credits, showing subcontractors, such as Dynamo Pictures and Opus Studio Inc. named among just four individual people (three for the localization division, one for the QA division). This truncated version in the closing credits is where Forspoken caught flack for what some thought was the game's failure to credit both of these teams.
Read More: How Game Companies Use Credits To Reward, Or Punish, Developers
"In Forspoken by [Luminous Productions] and [Square Enix], translators are not in the credits," Loc in Credits, a Twitter account dedicated to following and posting about the hashtag #TranslatorsInTheCredits, tweeted. "Local Heroes worked on AR/PT-BR/RU text according to their website. I don't know about the others and there could be names I missed on the list."
The hashtag has gained traction as other games or gaming-related media have fallen short of giving everyone their due acknowledgment. The problem has plagued The Callisto Protocol, Persona 3 and 4, and HBO's The Last of Us television show, as TheGamer points out.
"This is just not acceptable," Twitter user CWDGH said, sharing a picture of the four individual people named from the game's localization and quality assurance divisions. "Countless people that have worked on Forspoken have been snubbed in the credits. Three people mentioned for localization, one person for QA. Ridiculous."
They have since added context after being made aware of the longer opening credits: "ADDENDUM: It seems that there are in fact two different credit rolls, therefore I take back what I said. Credit where credit is due. Good for everyone that is mentioned and good of Square Enix."
Kotaku reached out to Square Enix for comment.
As Kotaku has previously stated, everyone who worked on a game, whether that's writing code, localizing language, or producing art, should appear in the end credits, regardless of whether or not they're still employed at the studio. Erasing their names is akin to erasing their contributions to the project, which in turn could hurt their future prospects and aspirations. Everyone's effort should be valued, and crediting is one of the many ways to do that.