Last month, Soulcalibur fans were disappointed to learn that longtime series regular Tira was not on the main roster for Soulcalibur VI, instead relegated to day one paid downloadable content. She did, however, make it onto the roster for this weekend's free network test. Great.
It's understandable that fans of the series would be upset over having to pay extra for a character who has appeared for free in the past three Soulcalibur games. She's not the easiest character to control with her odd fighting style and sharpened metal hoop weapon, but Tira's become part of the family in the 13 years since her 2005 debut.
A somewhat estranged member of the family now. In August, Bandai Namco announced that Kira would be downloadable content for Soulcalibur VI rather than be included on the disc. Players can either purchase her separately, or obtain her as part of the game's Season Pass.

Alternatively, players can get an early taste of Tira's talents during this weekend's free network test. PlayStation 4 and Xbox One owners can download the client (it's under 4GB) and engage in online ranked battles utilizing 16 of the game's characters. That includes special guest star Geralt of The Witcher fame and good old Tira, though she's listed with a caveat.
G/O Media may get a commission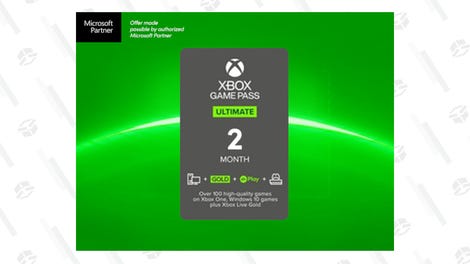 70% Off
Xbox Game Pass Ultimate Two-Month Subscription
Why? If Tira is ready to play, why not just include her in the main game? When she was announced as downloadable content, it felt like a cash grab on Bandai Namco's part. Now it feels even more so.
Speaking to professional fighting game player Marie-Laure "Kayane" Norindr shortly after the announcement (via the Soulcalibur Wiki), Soulcalibur VI producer Motohiro Okuba said that Tira nearly didn't make the cut at all, included at the last minute due to fan response.
We reached out for comment from Bandai Namco on the Tira situation, and will update this post should we hear back. If we're lucky, the company is busy internally discussing how to make the whole thing seem less shady. They've got a little time.
Soulcalibur IV arrives on Xbox One, PC and PlayStation 4 on October 19. Tira sold separately.