Balls were kicked. Knights were wound. Towers were defended. Passwords were hacked, and the dead rose to detect among the living in another spectacular Week in Gaming Apps.
These Great Fortnite Creative Maps Show Us What's Possible
What a wild and wonderful five days it has been. We got to play a colorful little tower defense game with an unfortunate pay scheme. We learned that hyper-realism isn't necessary in creating a lovely football game. We jumped and ran our way through an epic adventure. We traveled back in time several decades for haxxorz.
And we fell in love with Ghost Trick, a DS game that found its true audience on the other side of an iPhone screen. Inspiring, isn't it?
If you have a suggestion for an app for the iPhone, iPad, Android or Windows Phone 7 that you'd like to see highlighted, let us know.
G/O Media may get a commission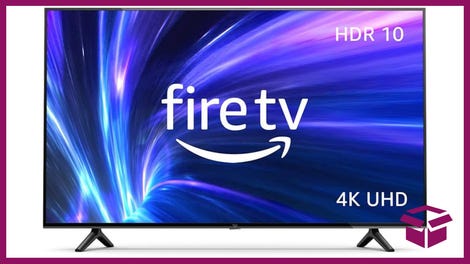 42% Off
Amazon Fire TV 50" 4K Smart TV
In late 2010, developer Kairosoft released one of its older mobile management games, long out in Japan on standard phones, in the West. That game was Game Dev Story. And it was brilliant. More »
---
Creating a successful 'freemium' game is an exercise in enticement and restraint. You need to slowly but surely gain the player's interest, building excitement to a fever pitch before introducing the idea of laying out a little cash to enhance their enjoyment. More »
---
A woman is in peril! Unbeknownst to her, a killer is leaning out from the shadows, murder weapon at the ready, and only one man can save the day. Just one problem-her potential savior is a ghost, invisible and intangible. Guess it's time to get creative. More »
---
I'd like to recommend a game I am bad at. I think you'd be better at it than I am. Plus it's pretty and, did I mention that on Android it's free? More »
---
Partly for nostalgia, but definitely on its own merits,The Hacker is my favorite mobile game, so far, of 2012. The first rejected password on that green monochrome screen took me back more than 25 years to Activision's Hacker on the Commodore 64, a game that had no real instruction manual, just that opening screen. LOGON. More »
---